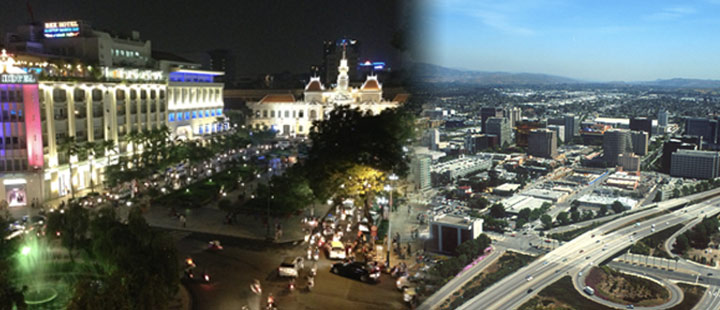 In 2013, overseas Vietnamese people remitted an estimated $11 billion back into Vietnam. In 2013, Vietnam's GDP was $170 billion. That's right, overseas Vietnamese send back so much money that it's equal to about six percent of Vietnam's overall GDP. And although Vietnam's GDP is still growing by about five percent per year, $11 billion is still huge.
Some of this money should be intelligently going to Vietnam's entrepreneurs. And it is. Right now, there are over 3,600 businesses in the country owned by overseas Vietnamese with a total capital of over $8.6 billion. For perspective, the total annual income of overseas Vietnamese is estimated to be $50 billion. Only a small percentage of that $8.6 billion is going into tech.
Overseas Vietnamese are now a seminal part of Silicon Valley
If it was just about money, that wouldn't be convincing enough. It's clear that the overseas Vietnamese community has done well. But the biggest connector is the Vietnamese communities' deep ties to Silicon Valley. 13 percent of Silicon Valley's Asian engineers are Vietnamese (PDF). Asian engineers, in total, account for 11 percent of the Valley's total engineer population. Although that's small compared to the Chinese and Indian populations (Chinese account for 51 percent and 23 percent are Indian), the phenomenon has had subtle effects on the startup ecosystem back in Vietnam.
Trung Dung, the co-founder of OnDisplay, sold his company for almost US$2 billion. Trung came to the US from Vietnam at the age of 17 with only two bucks in hand. After proving to be a successful serial entrepreneur in the States, he has returned to Vietnam to start Mobivi. It's a startup that tackles the mobile payments industry.
Trung is not the only overseas Vietnamese that has had success in the Valley. Just last month, Klout was acquired for over $200 million; its cofounder is Binh Tran. There's also Misfit Wearables, lead by founder Sonny Vu, which does most of the design and engineering for its wearable devices in Vietnam. This company has shown that you can manage a team in two countries at once, taking advantage of the labor and skills back home while leveraging Silicon Valley connections over in the US.
The list goes on. Overseas Vietnamese product people and founders have been a part of a numerous successful or notable companies in the Valley, including Katango, Color, Sparrow, HealthyOut, TastyLabs, Path, FoodGawker, Munchery, and Beautylish. There are more. Katango and Sparrow were both acquired by Google.
The expertise and successful stories are there. There just needs to be more interaction.
What's the motivation for these overseas folks to get involved in Vietnam?
Vietnam is currently ripe for the picking. Its engineering talent is leveling up and the local market is also waking up. Vietnam's software industry was worth over $2 billion in 2012. That number is largely influenced by major outsourcing companies. In addition, Hanoi and Ho Chi Minh City, Vietnam's two signature cities, are developing a strong middle class population. By 2020, Vietnam's middle class will double to 33 million people. On top of this, it is arguable that Vietnam is one of the ideal jumping off points to attack markets across Southeast Asia. Thailand and Singapore are a bit too advanced for the rest of the market, Indonesia and the Philippines have infrastructural issues – but Vietnam sits in between these worlds. The key is that overseas Vietnamese will have an easier time adapting and connecting to Vietnamese folks back home.
Yes, there are legal barriers, but they can be overcome
Of course, there are many barriers and headaches connected to investing in Vietnam. But the fact is, if you really want something, you can make it happen.
People like Trung Dung who have been able to successfully open businesses in Vietnam. Funds like OneCapitalWay that are funded mainly by overseas Vietnamese living in the Valley. There are even things like the Silicon Valley project, lead by the Ministry of Science and Technology, that want to make this easier too. The resources are now in place. The people are ready. Are you?