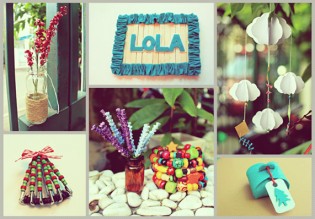 Just 12 days after my article listing all the key e-commerce players in the Vietnam market, there's already a new website on the scene. Lola.vn, with its smooth design and new concept, is a nice change from the clothing and general commerce sites that litter the country.
Lola.vn is geared towards handmade goods, in the spirit of sites like Etsy. In Saigon, Vietnam's biggest city, handicrafts have just lately caught on with things like the Saigon Flea Market and Saigon Crafts Fair where people are showing off their handmade crafts. Young people, especially women, are embracing the ability to create their own crafts and sell them as a small business. This is especially evident in the explosion of fashion shops across the city that sell clothing, jewelry, and pretty products to decorate the home. Lola.vn couldn't come at a better time.
Users can go to the site and find out how to create new crafts that have been posted by other users. The site hosts do-it-yourself instructions for everything from decorated pencils to unique lampshades to T-shirts to plant pots, so you could learn to make some of the items yourself. On the same page as the DIY instructions, users also get to see products that are for sale posted by other users and by local design companies.
The nice thing about Lola.vn's concept is that it is embracing a culture of educating users along with e-commerce. Users could go to the site just to learn how to create a handmade object without feeling the need to buy anything – unless something really captures your eye. Thus, Lola.vn will be embracing and creating a community around its model. For users familiar with the Pinterest social pinboard, the design of Lola will remind them of this.