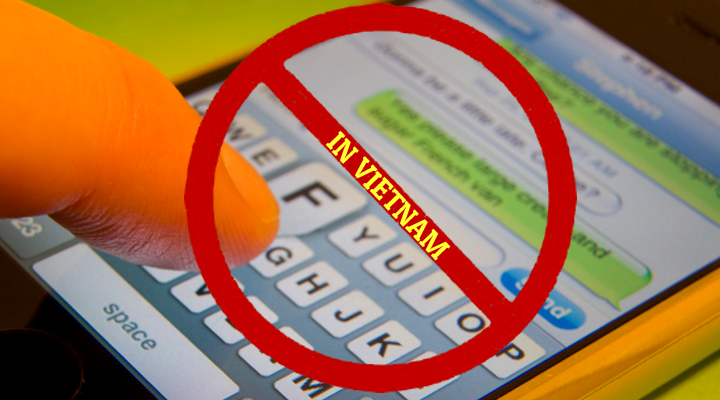 Reuters just caught a doozy of a news article concerning Vietnam's ever-changing internet policy. Now the Vietnamese government is looking into a policy that would ban chat apps like Viber, Line, Whatsapp, KakaoTalk, and WeChat. On the heels of a highly controversial policy a few weeks ago that would effectively prevent social media sharing of news, the telcos are getting together to lobby authorities to these popular online messaging apps. Note that all of Vietnam's major telcos are owned by branches of the Vietnamese government, such as the army.
According to a representative of Viettel Telecom, one of Vietnam's largest telcos:
We will lose 40 to 50 percent of our revenue if all of our 40 million customers use Viber instead of traditional call and text.
In other words, Vietnamese telcos are afraid of losing revenues. It's short-term and protectivist thinking. The ban was addressed by prime minister Nguyen Tan Dung, who stated that the ban would affect all over-the-top (OTT) services – i.e.: any content delivered across mobile data
This raises concerns about censorship in Vietnam
With this proposed ban, along with the online news decree from earlier this month, many in the international community are going to call into question Vietnam's censorship laws. Some have tied up Vietnam's social media censorship to roots in a copyright battle between traditional newspapers and online media, but this latest possible ban is clearly protectionist in nature. But if the ban and the decree both go down, it's no doubt that the world will wonder how open Vietnam truly is.
Vietnamese telcos don't understand business?
On the other hand, this protectionist way of doing things – which is reminiscent of China's controls and regulations on its own internet – may betray a misunderstanding of the potential that OTT services bring to consumers. Chat apps like homemade Zalo and global success Viber get people on 3G, something that telcos will likely be happy to see. The problem is that the telcos only see that they're losing money on texting and calling. What they don't realize is that getting people on 3G could bring in greater revenues from other online services in future, such as virtual items, SMS banking, and mobile commerce. They're cutting off a potential gold mine that many yougn mobile startups want to get in on.
There are two key points that telcos are currently missing. One, they're too focused on texting and calling rather than 3G growth; and, two, they're skimming way too much off the top of SMS transactions (sometimes up to 40 percent), thus stifling many potential business models. They don't realize that if they get more people signed up for 3G and making SMS transactions that they will significantly grow their revenue pot in the long run. But they want the money right now. This is classic Vietnamese thinking.
Let's not forget what the telcos have done for Vietnam
At the same time, by all rights, Vietnam's telcos have been one of the biggest drivers of Vietnam's staggering internet penetration. It is widely considered across Southeast Asia that Vietnam has the best 3G services and wifi capabilities in the region. It's not only cheap, easy, nicely decentralized, and reliable, but it's also penetrated into the edges of Vietnam's countryside. It's the envy of the whole region.
At the same time, these same telcos that have pushed Vietnam's infrastructure forward have totally missed the boat on added services on top of their data waves. In Thailand, by comparison, the three major telcos are investing heavily into mobile startups that could offer new and valuable services to consumers, emulating what Japan has been doing for over a decade. Thai telcos see that giving telco customers more services allows the firms to compete with each other better. Vietnamese telcos, on the other hand, are pushing for a huge market, but no added value services.
At the end of the day, there are a lot of consumers, but the telcos just want them to text and call? That's not very forward thinking.
(Editing by Steven Millward and Paul Bischoff)