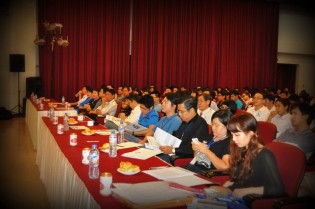 Last Saturday, over 120 people came together for a 2012 Vietnam Startup Retrospective event. Venture capitalists, professors, and startup leaders served as judges in a competition that included 11 fresh new Vietnamese startups (1). Judges were asked to select five startups to pitch, and each of those was given 10 minutes to show their introductory videos, pitch their ideas, and respond to questions from judges. Here's a list of the 11 startups:
Visually, I like Bibook, Tapmee, and HelloChao. They're a shining light in a sea of ugly Vietnamese web designs that don't just plague this list but the majority of Vietnamese apps and websites.
5 winners
In terms of addressing actual problems, not many of these startups are particularly compelling. They do tackle some minor problems. The top five winners are a little more interesting.
The top five winners who got the chance to pitch to the judges were Appota, Hoa Yeu Thuong, Imap, Kleii, and Yton. They're centered in relatively new spaces for Vietnamese startups: mobile app distribution (Appota), flower delivery (Hoa Yeu Thuong), street locations (Imap), cloud storage (Kleii), and medical care (Yton). And they underline some particularly interesting problems that Vietnamese startups need to tackle:
App distribution: Just like China, jailbroken phones and piracy are rampant. Appota addresses this problem by legally distributing apps for developers via some alternative channels.
Delivery: One of the biggest hidden trends in Vietnam today is logistics. E-commerce, daily deals, booking, tourism, and delivery all require a logistical infrastructure that delivers products and services to people. Many startups are betting on logistics.
Location: Content is directly tied to location, and Vietnamese content is scattered, dated, and not localized. Google Maps is largely inaccurate because of street names that intersect in odd places and address numbers that jump from 45 to 200 within a few steps. Solving this and linking to relevant social data is a big potential market.
Cloud storage: A largely untouched territory that is still not familiar to the majority of the Vietnamese market.
Medical: Well, who doesn't want to make medical care better? The question is, is the data open enough to really provide in-depth medical data for each patient like we are starting to see with Datapalooza in the States?
Let us know what how you rate the five winners in the comments section.
---
23 startups were listed in other marketing materials but only 11 were fully featured in the event.  ↩