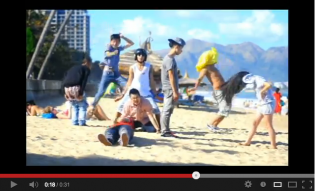 Steven already covered the growing Harlem Shake trend in China, but let me tell you it's getting big in Vietnam too. The absolutely ridiculous and outrageous dance meme is here to stay – unfortunately. Well, for now, at least. And as you'll see, Vietnam's got its own twist on the Harlem Shake formula too.
Fun fact: Over 90 percent of online users in Vietnam watch videos. That means video is by far the most powerful medium for Vietnam online.
So there's been so many Harlem Shake videos in Vietnam that someone came out with a compilation video:
And it's been spreading up and down the country with folks even doing it on the beach in Nha Trang, Vietnam's resort city:
But I have to say, the best one has to be from the Vietnam RacingBoy Ultimate team who got their motorbikes together and raced around to the Harlem Shake. I guess they figured, no need to dance, just ride:
As cool as all this is, I'm really looking forward to the next meme. Hopefully, the internet comes up with something less silly, but I know that's too much to ask for.