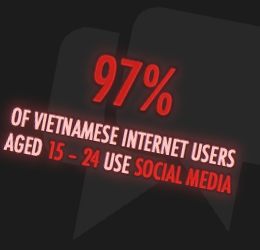 The Infographic of the Day series visually expresses important stories from Asia and the world of technology.
---
Vietnam, Cambodia, and Laos are areas that don't get too much coverage in the tech press – but that doesn't mean that there aren't interesting phenomena in the way its web and tech scene are developing.
Vietnam is especially one to watch, with a fledgeling start-up scene empowered by game-development successes that are attracting a lot of investment from Japan.
Across these three countries, mobile is proving especially revolutionary – getting people not just talking, but also online. It's a situation we're seeing, too, in India and Indonesia. Following that path, we're likely to see Cambodia and Laos pick up social media, e-commerce, and gaming almost exclusively on mobile, not on desktop PCs. Vietnam's infrastructure, though, fares somewhat better.
To read the full analysis, head on over to the We Are Social blog where they also have the slideshow. Here are the three reports in full:
---
Vietnam
---
---
Cambodia
---
---
Laos
---
---
You might like to check out our previous four articles from this infographic series.
[Source: We Are Social]