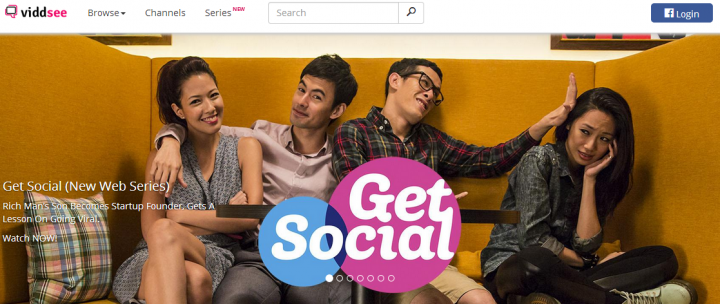 Launched in February last year, Asian short film portal Viddsee is now branching out into web series. Its first offering is a 20-episode mockumentary about a social media startup called Get Social.
Co-founder Derek Tan says more web series are in the works, and Viddsee has grown significantly since Tech in Asia last spoke to the Singaporean startup in November. Today, over five million people have watched at least one of the over 500 short films on Viddsee, and roughly a third come back for more. 70 percent of viewers are from Asia, but a solid chunk also come from the US and UK, thanks to English subtitles.
Some filmmakers are even using Viddsee as the exclusive premiere channel for their movies, like animated feature Cap'n Shmelly and the Sperm Whale. So why Viddsee over YouTube or other local portals? Tan says unlike other sites, Viddsee will help market films through editorials on its blog, Facebook, and syndication partners. It runs official channels on YouTube, Yahoo, and DailyMotion, giving the films reach beyond hardcore film buffs.
See: Arty film site Viddsee adds channels to showcase hot directors and film festivals
For Asians, by Asians
For fledgling filmmakers, the door to new audiences was thrown wide open with the advent of broadband internet. Today, reach is no longer the obstacle; the main challenge is a huge jumble of content on video sites..
Mixed in with the flood of movie trailers, cat videos, and wanna-be vloggers, it's tough for filmmakers – who often only release a new product every six months to a year – to avoid being drowned out. A few sites have stepped in to alleviate the problem like Maker Studios, which was recently acquired by Disney for over US$500 million.
But even western portals like Maker Studios aren't an ideal fit for Asian short films because the cultural differences don't resonate with western audiences, says Tan. "They don't get picked up and don't get curated in the west primarily because of the stories they have," he says, which is where he and his co-founder spotted the opportunity. The clear focus on Asian short films (and now web series) has helped build the company's brand among both viewers and filmmakers.