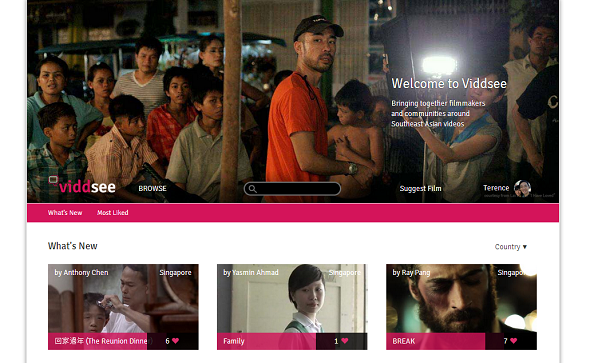 Indie short films are not exactly the first thing that comes to mind as a niche for startups to tackle. After all, compared to formulaic Hollywood fare, short films don't cater to mainstream tastes and as such have limited appeal.
That has not stopped Ho Jia Jian and Derek Tan from starting Viddsee though. Borne out of their passion for their craft, Viddsee is a video platform that screens short films from talents in Southeast Asia. Think of it as YouTube designed for filmmakers and art buffs.
As a just-launched minimum viable product, Viddsee doesn't yet boast the sophistication of other platforms out there. It doesn't host its own videos; the creators opted to put them on Vimeo instead.
But the site has some unique elements. For example, it has a rating system that lets users 'like' a film based on story, acting, camera, and sound. It also has a substantial library of films available — at over a 100 — providing an attractive alternative to watching Running Man on Funshion.
Does it have in it a seed for a sustainable business? It's hard to say now. Much will depend on whether it can become a rallying point for the region's filmmaking community and art aficionados. It will also have to earn credibility as a curator of quality material — which it's already starting to do by having exclusive film premieres with promising directors like Ray Pang and Kelvin Sng.
There are factors outside its control too, such as the growth trajectory of Asia's creative scene and whether some of these featured directors might someday move on to greater things.
While millions have flocked to Christopher Nolan's movies, I'm sure a subset of that crowd would surely love to watch the short films he made as a budding filmmaker.
So there's certainly potential for Viddsee to become a popular content destination, especially if it eventually expands outside Southeast Asia. But it's not just that. According to Derek, Viddsee is a platform that gives filmmakers greater control over content distribution.
While filmmaking is essentially a B2B business where directors peddle their products to film festivals and distributors, Viddsee gives them an alternative platform to reach out to audiences. It's similar to what YouTube has done to the entertainment industry by turning a B2B business into a B2C one.
While there's no doubt that catch-all content sites are receiving tons of traffic, entrepreneurs are starting to bet that audiences have grown sick of all the noise out there. For example, Eumakh, a startup from Malaysia, is promising a curated viewing experience for an entirely different crowd — KPop fans.
While I don't know if these ventures will become sustainable, their existence is certainly benefiting content creators, which now find that they have a plethora of online creative platforms to help them raise funds, get distribution, and even seek talent to supplement their own.
What they need now is the creative and marketing savvy to cut through the noise.
Jia Jian will be speaking at Relay Room's Creative Mixer 5.0:Push.