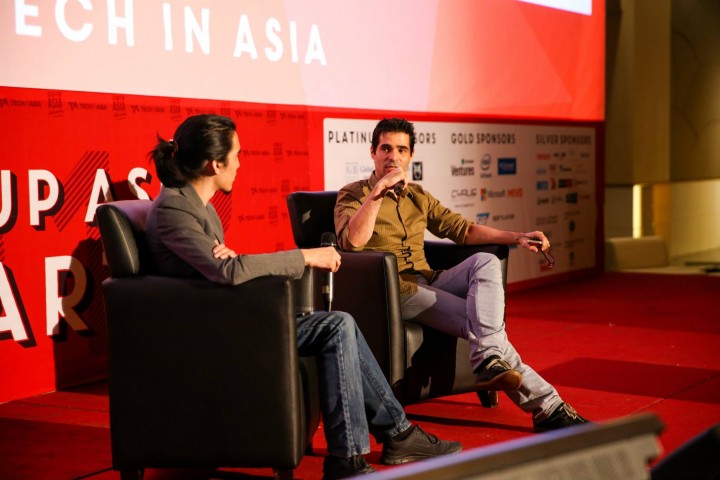 Viber, the messaging app founded in 2010 by Israeli entrepreneur Talmon Marco, has steadily emerged from the enormous pack of mobile messengers to become one of the stronger leaders in Asian markets that haven't yet been dominated by Line, WeChat, and KakaoTalk. Last week, Marco revealed in a tweet that the company had racked up eight million users in the Philippines and another eight million in Vietnam to date.
The global messaging app space remains extremely fragmented, and the competition to replace traditional SMS has several implications pertaining to the future of marketing, social media, and cross-cultural consumer technology. With these implications in mind, TiA caught Marco on the sidelines of Startup Asia Jakarta 2013 to talk about the differences between global and regional players, the pitfalls of traditional advertising, and whether or not Viber can co-exist with its competitors.
What are Viber's strongest markets in terms of downloads and active users?
If you look at the mobile messaging space, there are applications which are more global in nature, and there are those which are more regional or country-specific. Viber is more global. We don't index exactly the same in every market. If you look at the markets we're strong in, we're strong in the US, we're strong in Russia and the UK. But if you look here in Asia, then our strongest markets would probably be the Philippines and Vietnam. We strongly believe we have millions of active users in India, and are second behind WhatsApp. We're not ready to give the exact numbers there now, but we expect to soon.
Some messaging apps are firmly regional players, while others have reached or are attempting to reach a global userbase. Where on this spectrum do you see Viber?
We haven't really tried to be either global or regional. We launched an application, and haven't spent a single dollar on actively marketing it. We put our resources in R&D. The response just happened to be global. Markets that we don't index well in typically tend to be markets where there was a local player, or markets where one player was aggressively fighting for the market. For example, we don't index well in Korea, where messaging is dominated by Kakao, or in China, where it's very difficult to compete. But for the rest of the world, it's open season. Users went for whatever app they wanted, and we were lucky that Viber was one of them.
How do you think Viber was able to accomplish that?
I think it's the strength of the product. Until just a few weeks ago, we put all of our efforts into developing the product. Our focus has always been trying to blend the quality of the product, which we define as the feature set, and the design of the user experience. We want to make the product simple enough so everybody can use it, while also packing a lot of power under the hood. Our users love the extra features we add, and they love the way they are delivered – in a very subtle manner. Viber is friendly to a fifteen-year-old, and at the same time, if you're fifty or sixty years old and you just want to send a message, Viber is not going to feel out of place for you.
Why have you decided to shun advertising?
Well, we haven't decided to shun advertising, we just decided to focus on the product, and now we're starting to do the marketing initiative. I'm personally convinced that throwing money at TV ads isn't the way to go. It's pretty expensive – we're not as rich as Tencent, there's no doubt about it, so we need to be more prudent with our dollars. And if I have a dollar that I can spend on either development or a TV ad, I'd rather put that on development.
What are some of those recent marketing initiatives?
We have a marketing office now in the Philippines that was established in September, then one in Vietnam in October. There's an additional one that we established in November that we haven't announced yet. As for what we're doing, to give an example, in Manila, we sponsored a large concert with over 10,000 people. You needed to donate to a Viber-sponsored fund in order to get in. We also soft launched ViberOut, which let users all around the world make free calls into the Philippines. We're starting to plan some things for Vietnam. A lot of what we end up doing will depend on the personality of the employee we hired on the ground. Some might lean towards activations at a mall. Others might lean towards big concerts. We try to let the people on the ground be themselves and do what they want. And we'll continue to open offices in places where Viber is either number one or has potential to be number one.
A lot of chat apps have moved away from messaging and into what can broadly be described as social networking. Viber, at the moment, is pretty firmly rooted in messaging. Do you foresee it branching out the way some of its competitors have?
I think so. I think that they're all going to end up there, one way or the other.
Why do you think it's inevitable that the messengers will branch out into social networking?
If on one side you consider the scale of SMS-like communication, and then consider the scale of social networks like Facebook and Twitter, it's inevitable. We started as pure communication, but our development – first pictures, then groups, then profiles – naturally took us further into the direction of those social networks. The question is, how do you move in that direction without losing the core focus on messaging?
We don't want to be the next Facebook. We want to make sure that our core function is one-on-one messaging, not posting a status that the whole world can see. There's nothing wrong with that, we just don't think this is what we're meant to do.
You just recently opened a sticker store, which marked your first step towards monetization. Any plans for something like shopping or games in the future? Or meshing the 'inevitable' platform features with revenue streams?
Those are all on the table. Historically, when we've developed Viber, we've made sure that whenever we deliver a new feature, we deliver it in a way that does not trash the user experience. For example, last December we launched a version of Viber with four new buttons, three of which had new features, one of which was just decorative. This wasn't a design element. It was a push-to-talk feature that was yanked at the last minute, days before the release. We originally implemented it the way most apps have done it, where users record a message, then upload it, then send it; and then the recipient downloads it, listens to it, and records and uploads a response. This meant that that it could take a user up to sixty seconds to get a response to a fifteen second message. And that was a horrible thing. So these are the sorts of concerns that postpone development of features, whether they be for communication or platform features.
How do you foresee the messy competition in mobile messaging taking shape over the next few years?
I think, generally speaking, you are going to have one winner per country. It might take a few years before winners establish themselves in some countries. But I can foresee these strong winners co-existing with maybe one or two players in niche verticals, or alongside something like Snapchat, which isn't a traditional messaging app at all.
(Editing by Paul Bischoff)