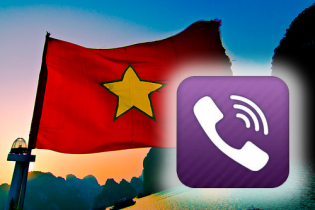 Viber's got 3.5 million users in Vietnam. Besides Whatsapp, whose numbers are still not confirmed, Viber is crushing everybody else in the messaging app battle in Vietnam. We know that both Line and KakaoTalk have one million users each in the country, so Viber (which also does VoIP calls, like Skype) is well ahead.
To uncover their strategy in this market, we talked to the CEO of Cyprus-based Viber Media, Talmon Marco. He explains that Viber adds 20,000 users per day, and in the month of February it added another 500,000 users. So I had to ask Marco, what do you think is the reason for your explosive February growth? Turns out, it's a trend:
We do not see February as "explosive growth" but rather as ongoing growth. For example in January we added 390,000 users, in December 360,000, and in Nov 290,000 – so numbers are ramping up. My guess is that in March we will add about 600,000 users.
These numbers are especially compelling when you consider that Viber has not actively promoted the chat app in Vietnam. In fact, the startup does not actively promote the app in any of the countries it operates in.
Marco also commented on types of activations, saying that Viber sees more activations on iOS than on Android in Vietnam, but only by a very small margin.
Lastly, Vietnamese users will be happy to hear about what's coming in Viber 3.0:
As announced a few weeks ago, Vietnamese support is coming soon with Viber 3.0. We will be looking to further support the local market with additional features.
By the way, Viber recently announced it has over 175 million users worldwide. And e27 caught that Viber's got over a third of its users in Asia. These recent numbers from Viber will certainly be a concern for Line, KakaoTalk, Zalo – three rivals who have a confirmed user-base of one million users or less – and any other chat app hoping to gain the attention of Vietnam's young mobile users.
Sidenote: Marco has assured me that in Viber 3.1, the team will be allowing users to take out the notifications I complained about in my previous article.