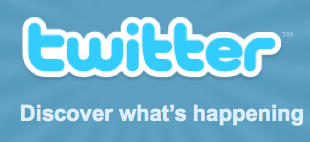 Twitter is serving more than 1 billion tweets per month, and a recent study has credited veteran Twitter users (those who have micro-blogged for more than 9 months) as the main contributors.
This study tells us one thing – the more we tweet, the more addicted we get. Perhaps the addiction kicks in when a Twitter user gains more followers over time.  A Twitter infographic that we previously shared also confirms this fact.
Most Twitter users have less than 5 followers, and it was also stated that most newbies drop Twitter after a month of usage, thus explaining the stagnant growth in tweet volume.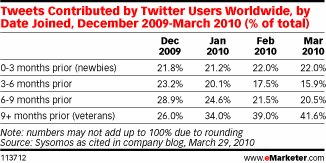 Newbie Stigma?
Twitter is a great social-networking cum micro-blogging site only when a user's existence is felt. A new user might find it hard to fit into the Twitter community, especially since many users only follow others with a big following. Whichever way we see it, Twitter suffers most from this "newbie stigma," and helping new users to fit into the Twitter community can prove to be a huge challenge.
Any thoughts on this "newbie stigma"? Let us know via comments.
–
[Source: eMarketer]