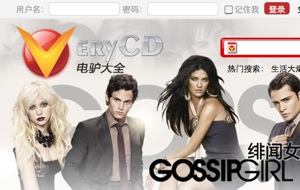 It has been a rough passage for the Chinese site VeryCD, which this year has been transitioning away from being a piracy-lovin' music downloads portal towards building a legit operation as a movie, music, online gaming, and TV show-oriented business. But with traffic down by a reported 50 percent, and running costs rising, its future is far from assured.
But, credit where it's due, it has been quite a transformation. When VeryCD was founded back in 2003 it was not much more than a chaotic – and phenomenally popular – BBS with lots of P2P links (specifically eD2k, aka eMule; and later easyMule) to pirated mp3s and movie files. Only in January of this year did its CEO, Huang Yi-meng, make the difficult decision to change it into a legitimate media-streaming site that might grow, in time, to compete with PPTV and Youku (NYSE:YOKU) (remember that both those started – a lot like YouTube – with a lot of unlicensed content that gradually had to be deleted).
Chinese tech site DoNews has a good interview with Mr Huang today. It details how, after numerous government warnings dating back to 2008, VeryCD was briefly shut down on the 23rd of January 2011, and its entire piracy-packed forums were removed. It was either that or be permanently shut down by SARFT (China's State Administration of Radio, Film, and Television) and risk having the domain name ceased as well. That was the turnaround.
---
The Death of P2P?
---
The site still links to some P2P-sourced content in its Topics sections, but all that – including ebooks and software – claims to be licensed. A search for 'PhotoShop' leads to mostly downloads of video demos and masterclasses on how to use the software, not pirated versions of the apps. That's a relief for Adobe (NASDAQ:ADBE) which launched an online store here in China just this week.
Most licensed content, however, is actually in the form of embeds from – or links to – other sites, such as Youku or Sohu (NASDAQ:SOHU) TV, which highlights how expensive this sector has become.
---
Online Gaming a Boost to Revenues
---
But, claims Huang Yi-meng, VeryCD's online gaming business is doing well – especially from being licensed to run the MMO game 'Heaven and Earth' (pictured above) – which has contributed greatly to an otherwise impressive first year of legit operations. He claims the site as a whole generated 120 million RMB (US$18.9) in revenue in the 10 months up to the end of October.
And now that VeryCD has acquired the requisite online video license from SARFT, it is all set to try challenge a host of larger Chinese video and/or gaming firms.
[Source: DoNews – article in Chinese]