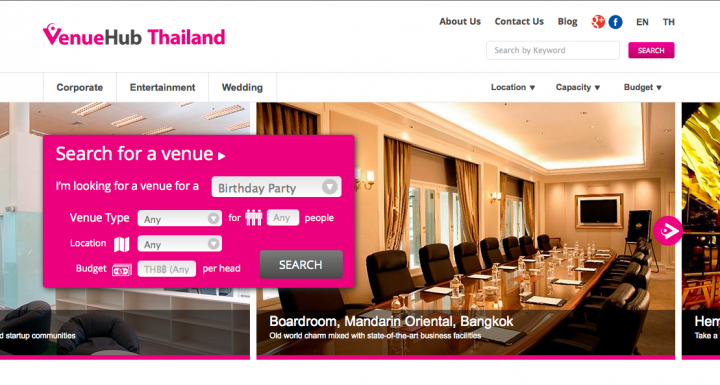 There are 10 more months until the end of the year, which means there are a lot of birthdays, meetings, weddings, and other types of parties to come. It's a hassle calling lots of venues to check details, which is why we see so many startups in the region that aim to make this easier, such as PartyYO, VenueMob, and We Are Spaces.
In Thailand and Hong Kong, there's VenueHub. Like other competitors in the space, it's an online venue booking platform, which connects people with venue managers or owners. Founded in Hong Kong in 2013, the startup ventured into Thailand later that year. Right now, there are over 150 listed venues in Hong Kong and 50 in Thailand.
(Updated August 11, 2015: The startup says: "As of April 2015, VenueHub Thailand has been rebranded as Venue O and is no longer affiliated with the VenueHub brand.")
According to Bart Medici, VenueHub Thailand founder the company has done well in the first two markets and so it's now looking for partners in Southeast Asia, China, Japan, and South Korea in order to expand to more markets.
VenueHub's business model in new markets is similar to a franchise, like opening up a KFC. Each country partner gets to run their own business, take ownership of it, and deal with funding independently. Although the Thailand and Hong Kong groups will take a stake of any new franchise, the country partner will be the main shareholder of the business and will hold the representative rights for the specific country.
(Editing by Steven Millward)