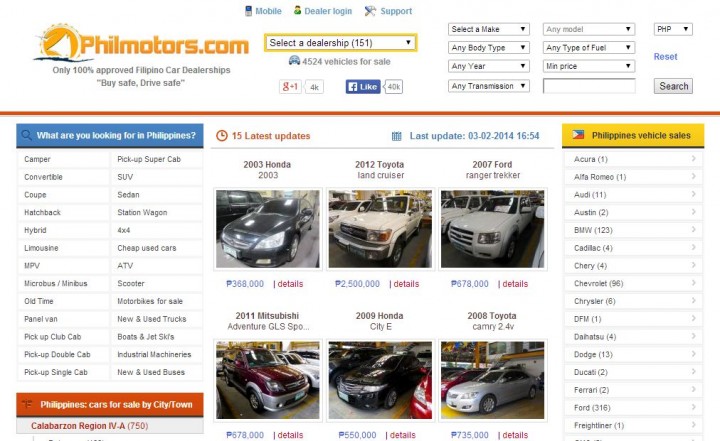 It looks like the automobile industry is now a growing market in the Philippines. Just last month, Rocket Internet ventured into the vehicle marketplace with the domestic launch of Carmudi. Following this, another player, online vehicle platform AfricaUA has officially launched Philmotors in the Philippines.
Philmotors is another avenue for Filipino consumers to find dealers that sell brand-new or second-hand vehicles nationwide. Vehicle dealers and agents can post advertisements on the site for a fee. According to the company, this model ensures users that only cars from reputable dealers will be found in the platform.
AfricaUA's launch of vehicle marketplace Philmotors is its first venture in Southeast Asia. Founded in 2006, it already has a presence in Africa and Europe. Philmotors co-founder Daniel Alonso says its entry into the Philippines is timely as the country "is experiencing rapid economic growth and its automotive sector is flourishing."
AfricaUA saw that the car sales in the country jumped up by 46.3% from August 2012 to August 2013. This is also the same factor that led Rocket Internet to bring its vehicle marketplace over to the Philippines. Alonso adds:
The fact that the Philippines has such a massive online-savvy, English-speaking population, was a deciding factor in our decision to start here for our entry into Southeast Asia. The demand is there for a high-quality and dedicated automotive portal that meets the needs of both buyers and sellers.
PhilMotors has been operating for 18 months now, which according to Alonso, gave the team ample time to have a good number of dealers and agents on board. Currently, more than 350 dealers are posting advertisements on the platform. It also has around 100,000 monthly unique visitors.
In addition to Carmudi, PhilMotors faces competition with SulitCars and a few other startups in the Philippines.
(Editing by Josh Horwitz)