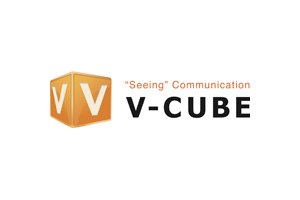 V-cube is a Japanese company that provides visual communications — basically video and web conference solutions — for enterprises. It was founded in October 1998 by Naoaki Mashita first as a web and mobile consulting and development studio.
In 2004, V-cube ventured into developing its own consumer apps and even had an L.A office. Back then Mashita said it was extremely difficult to have virtual meetings between the U.S and Japan teams. There just weren't any good video or web conferencing products available on the market. Instead of hoping for one, Mashita and his team decided to build one themselves for their own use. It turned out to work very well for them.
Going full throttle in visual communications
In the same year, in 2004, V-cube realized that its customers were also facing the same problem of not having a user-friendly and reliable solution to hold virtual meetings with overseas team members. Seeing the opportunity, Mashita started to introduce V-Cube's own in-house conferencing solution to its clients. The feedback was great.
Soon after, V-cube turned into a full-fledged visual communication company, focusing just on providing video and web conferencing solutions for enterprises. That decision proved to be right. Today, V-cube is one of the leading visual communication companies in Japan. Citing data from Seed Planning's Video and Web conferencing 2012 report, V-cube ranks first in the Japanese web conferencing industry, with 32.5 percent of the market share.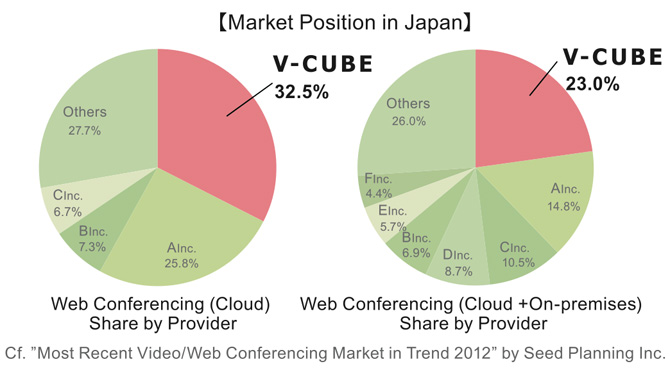 Despite web conferencing being its biggest revenue generator with over 3,000 clients, V-cube also provides visual communications solutions for other functions like:
Web seminars
Online support and maintenance
Online sales
E-learning
Tele-healthcare and distant counseling
V-cube visual communications solutions are browser-based so they don't require any installation on the users' end. It is also compatible across all major operating system including, Windows, Linux, Macintosh, Android, and iOS.
Asian style communication
The reason V-cube was able to beat its overseas competitors is that it understood the Asian culture better. Mashita said that in America and Europe, conferencing involves mainly text and voice. There's no real need to "meet or see" the person online.
On the other hand, in Asia, it is important to first "meet" the clients. Thus, doing face-to-face conferencing is an important core. By understanding this important cultural difference, V-cube gained a huge advantage over Western competitors like Cisco and Microsoft. Mashita claims that all 47 Japanese prefectures are using V-cube virtual conferencing solutions.
Bad times, good times, and expansion
In 2008, when financial crisis loomed over the world, Mashita told me that V-cube's business was exceptionally good. He told me:
2008 was a good year for us. Web enquiry increased 20 times. Unfortunately, our business is usually better when there is disaster like tsunami and earthquake. People realized that phone line doesn't work but the IP (internet provider) still works.
In times of financial distress, Mashita told me that companies are more likely to explore ways to reduce manpower but yet maintain the output of the staff. So for sales functions, an online sales team becomes crucial for many companies who are tightening their budget. To have a reliable online sales channel requires V-cube's virtual communication solutions, which explains why web enquiries shot up.
In 2011, the Japanese web and video conferencing market was worth $100 million. Mashita shared that 10 years down the road, the industry is expected to grow to $1 billion in Japan. Being one of the leaders in the industry Mashita has also set his eyes on overseas expansion.
In 2010, he set up V-cube Malaysia. In 2012, his Singapore and Indonesia offices were also established. In Indonesia, Mashita told me that even though the international network speed isn't fast, V-cube's connected datacenters across the world helps to make virtual communication smooth. Besides Southeast Asia, V-cube also has offices in Los Angeles, Tianjin, Shanghai, and Hong Kong.
Mashita also recently moved to Singapore with his family to stay closer to the Southeast Asian market. He commented that Singapore is a good base to be in with its easy access to other neighboring countries and also convenience in setting up a business in the country.
V-cube has so far raised over $20 million of capital largely from from Globis Capital Partner (who was also an early investor at GREE) and Intel. Today, Mashita says that V-cube is profitable, generating $27 million in revenue last year and aiming at $40 million this year. When we talked about exit plans, Mashita shared that V-cube is gunning for an IPO in the Tokyo Stock Exchange market.
"We also hope our success will promote and inspire more enterprise technology companies in this region," said Mashita.