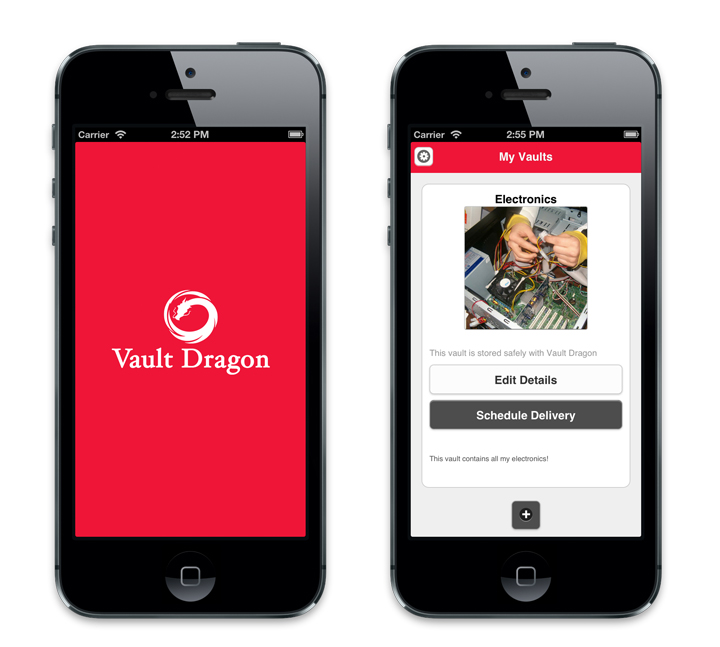 You are a college student in Singapore who's about to fly home during the term break. You sit in a bed in a rented apartment, and realize you're screwed: You don't want to pay the expensive rent for the three months you're away, but giving up the place means you'd lack a room to store your things.
That's a problem Tseng Ching Tse and Vishesh Mittal wants to solve.
With a killer one-line elevator pitch — a Dropbox for physical things — Vault Dragon has eyes trained on an industry its founders say is ripe for disruption: Self-storage.
Here's how it works: Users whip out their smartphones and open the Vault Dragon mobile app to schedule a delivery. A vault arrives at the appointed time. After placing the items into the tough, industrial grade box, they snap a picture with the app to document what's inside, and with the same app, arrange for a pickup. It's similar to United States startup Clutter, which just launched in Los Angeles.
Vault Dragon is a contrast from how self-storage works today: A company typically rents a warehouse, then 'sublets' it for weeks at a time to others. Customers then drive down to the location to deposit their stuff, and return again to retrieve it.
The model has downsides: High overheads discourage companies from offering flexible pricing plans to customers. Rentals in Singapore are exorbitant, further compounding the problem. Having a fixed location inconveniences customers, since they would need to drive or cab down to deposit stuff.
No better time
Yet the industry is rising. Ching, a former business consultant, says self-storage in Singapore has been growing at 45 percent year-on-year, to S$72 million (US$56 million).
A lot of M&A activity has occurred: SingPost bought Lock+Store last year for S$37 million (US$29 million), while CapitaLand purchased four self-storage businesses for $91.8 million.
Much growth will come in 2014 and 15, and Ching says this will be fueled by an en bloc boom for condominiums, which means many families will be moving about or downsizing their apartments. They'll need a place to store their things.
He believes there's not a better time to start the company.
For Vault Dragon, currently in closed beta, the keyword is flexibility. Like Amazon Web Services, users only pay for what they use: Pricing is S$0.45 per box per day, plus an extra S$19.50 for delivery of vaults back to the user. That's between S$30 to S$50 a month.
The transparent pricing is a marked contrast from self-storage companies, which do not disclose rates online.
Vault Dragon is designed for convenience. Users won't need to leave their house to store or retrieve the goods. With the app, they can remember what's in their vaults and plan pickups at their convenience. For now, the startup only has one product offering. It does plan to roll out more types of boxes catering to different needs.
Although it's looking for a slice of the self-storage pie, Vault Dragon is fundamentally different from the likes of Lock+Store. The latter is in the property management business, while the startup is logistics-driven.
Ching does not see their model being replicated by incumbents. He says:
They've spent tons of money on acquiring, retrofitting, and maintaining warehouses. They don't have the propensity to branch out into delivery.
In any case, the founders doesn't see the company as an adversary. Ching explains that occupancy rates for self-storage companies are around 75 percent. This positions Vault Dragon as a potential marketing channel and partner for self-storage companies. Their goal is to grow the market as a whole.
Still proof-of-concept
The next few months will be crucial for Vault Dragon. Recent graduates of Founder Institute Singapore and incubatees at the JFDI.Asia startup accelerator, the company has just opened up to the public today. It is available only in Singapore for now, but has plans to expand to Hong Kong and the United States.
With a tiny $11,700 investment from JFDI and $50,000 each from the two founders, Vault Dragon will need to prove in short order that their business model works. But whatever the outcome, the founders have already planned ahead, and are ready to scale at a moment's notice.
Their preparedness was what impressed Hugh Mason, CEO of JFDI, who saw the team pitch at Founder Institute.
"The founders impressed me with the way they had really thought through the issues in this business, which could be an operational nightmare if it was done badly," he says.
Vault Dragon represents a new class of startups from Singapore — along with RedMart and Anchanto — that is bringing the cloud to logistics and squeezing out every ounce of efficiency.
Resident techie Vishesh explains that the consumer app is synced with the business-end software: Once a request comes through, the system instantly plans the most efficient route for the delivery guy. If an order is canceled, the route is redrawn.
While the company outsources its drivers and vans, it will still employ its own service personnel to interface with the customer. Echoing Singapore startup Anchanto's philosophy, it wants to take charge of the only time it could meet face-to-face with the customer — during delivery.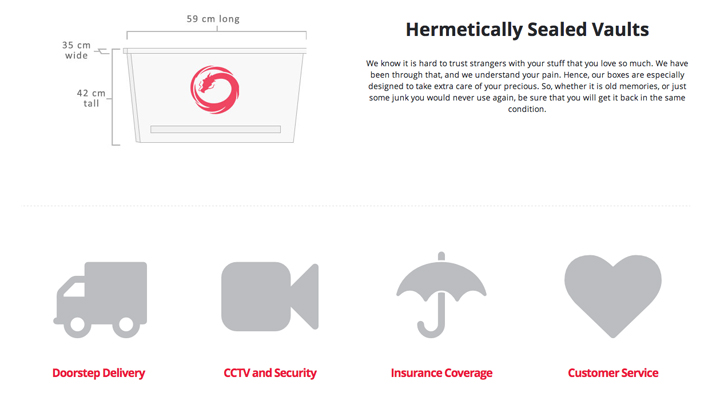 And that's just the tip of the iceberg: Every vault has a QR code that will sync the box's designation with customer data once it is scanned.
Even the shape of the box is designed for fast delivery, with grooves in the right places for stacking and carrying. It's opaque too to protect privacy, and waterproof to prevent leakage. Users seal the box themselves, giving them the assurance it won't be tempered.
The entire back-end system is paper-free, right down to the signing of documents (drafted by a lawyer on a retainer). The startup already has a warehouse that can be activated on a moment's notice should demand pick up.
Out of its two employees, one of them focuses on analytics and forecasting demand. Vish says:
Making the right estimation could make a big difference to our margin.
Much of Vault Dragon's attention to detail can be attributed to the founders. Besides understanding the problem intimately (the idea arose from their own house shifting woes), the founders know their stuff. Ching's dad owns a logistics business in China, while Vish has done much development work for startups.
The duo, both National University of Singapore students, grew closer as part of a same team for an entrepreneurial competition. They later went on a backpacking trip together, and worked on several other projects. In fact, Ching waited a full year for Vish to graduate so they can start the company together.
"Starting Vault Dragon wasn't a rash decision. It's a business decision," says Ching.
Edited by Willis Wee