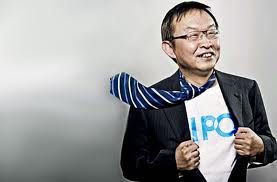 China's biggest clothing e-commerce site has been on a bit of a bumpy road over the past few years, but this year is looking bright. The company is building an expensive and shiny new HQ in Tianjin, and is aiming for a US IPO sometime this year. But that's not all; at a recent meeting at Vancl headquarters, CEO Chen Nian announced that the company is also aiming for 50% performance growth and total profitability this year. Yowza!
Mr. Chen admitted that the company had faced hurdles over the last year, and blamed out-of-control product and personnel expansion for the excesses that ultimately resulted in some staff and service cuts (although it seems not to have been a factor in the cancelled 2011 IPO plans). In response, the company made a number of adjustments (including apparent layoffs) that Chen says have greatly increased operating efficiency and reduced warehouse turnover from an average of more than 3 months to under 30 days.
Chen's plans for this year are ambitious, to be sure, but he's building on strong growth from the end of 2012, and he's finally got a US IPO in his sights. Nothing's written in stone, but personally, I wouldn't bet against him.
(via Sina Tech)