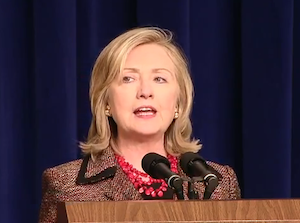 We recently wrote about the growing tensions between the US and China over online censorship and internet freedoms. In part to address growing concerns like censorship around the world, the US has launched its International Strategy for Cyberspace.
The strategy acknowledges that while the internet brings great opportunities for collaborations across borders, it also allows certain global players to "disrupt networks" as well. It's important to note that the document(s) does not mention China specifically by name (likely a wise decision), the emphasis on supporting internet freedoms make it clear that China is a focus.
Secretary of State Hillary Clinton explained that the strategy is comprised of seven priorities, of which internet freedom is the most important. Here are some key points in the document that might make the some Chinese officials perk up their ears:
We encourage people all over the world to use digital media to express opinions, share information, monitor elections, expose corruption, and organize social and political movements, and denounce those who harass, unfairly arrest, threaten, or commit violent acts against the people who use these technologies.
This is not a new value for the US to espouse, but an interesting one to consider while Chinese dissident Ai Weiwei is still detained. His cause is attracting more attention abroad (see yesterday's Colbert Report), and (possibly) at home in China if Baidu's hot topics list is to be trusted.
The US also emphasized its support for journalists around the world:
Cybersecurity is particularly important for activists, advocates, and journalists on the front lines who may express unpopular ideas and opinions, and who are frequently the victims of disruptions and intrusions into their
email accounts, websites, mobile phones, and data systems.
The past few years have seen repeated cyber-attacks on China-based journalists, as reported by the Foreign Correspondent's Club in China.
There is also a reference in the strategy to disrupting mechanisms like China's great firewall:
The United States will continue to make clear the benefits of an Internet that is global in nature, while opposing efforts to splinter this network into national intranets that deprive individuals of content from abroad.
The full strategy is available from whitehouse.gov in pdf form, while a condensed fact sheet pdf is also online.