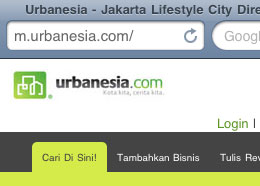 The rapid growth of mobile users is truly a blessing for every start-up in Indonesia, including Urbanesia. In order to address users' need, the online directory start-up added four new features on its mobile site : (1) Urban's Note, (2) Events, (3) Promos, and (4) UrPoint Store. These features will help users to receive more recommendations about what's going on in Jakarta, making the product even more social.
Once you log on to Urbanesia's mobile site, the application automatically detects the users' location and recommends several places nearby. Urban's Note can be found after scrolling half way down the screen. It consists of several articles grouped in 17 categories, including lifestyle, health & beauty, and tech. These articles are submitted by users and may prove to useful for folks who love to research restaurants and places of interests before heading there.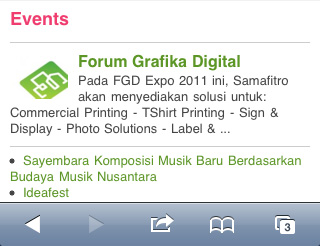 The new Events feature informs of upcoming events and is located just below Urban's Note. After scrolling down a little bit more, users can see various discounts, sales, and even giveaways under the Promos section.
For example, there's a "pay one for two" promo at De' Sushi and a free Whopper Junior at Burger King for Toyota Yaris Community members. Meanwhile at UrPoint Store, users can redeem points for vouchers directly from mobile phone and get confirmation by email.
---
Shake it
---
There's also a special feature for the iOS users. The new mobile site is also equipped with a "shake feature" which was already implemented in Urbanesia's Android app, Jajan. With a shake, users can receive recommendations for a place via their mobile phones. We tried it and it's pretty fun.
So if you're in Jakarta and wish to explore, you can try Urbanesia. The reviews can be 'iffy' at times, but nonetheless still a useful resource for explorers of this city.
[Disclosure: East Ventures has invested in Urbanesia, as well as Penn-Olson.]