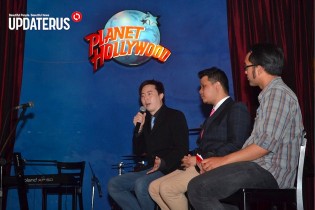 Seven months ago we talked about Updaterus.com after the rather unique news portal launched. Now the site has pivoted, ditching the format of news mixed with beautiful women, evolving into a mens' lifestyle site – which still (to our relief) has plenty of beauties. So, Updaterus has ditched its unisex market approach and opted to focus on just one niche – the guys.
We talked with Jonathan Marga Luhur, the CEO of Updaterus, about the site's transformation and progress.
1. Can I say that Updaterus is the Indonesian version of AskMen?
Jonathan: Well, lots of people commented that we are the Indonesian version of Askmen.com. We initially never targeted ourselves to be like Askmen; however, since we share the same vision as it, many people commented positive things about our similarity.
2. How would you describe it then?
Jonathan: Some of the core ideas about our mens' portal come from my personal experience. I was a total geek who did not know how to dress properly or how to talk to women, nor did I have a clue about my career. It took me years and lots of books to learn about all these. Our mens' portal focuses on giving tips on how to be a better man. I found out that a guy does not have to be handsome or own fancy cars to attract women — he does not even have to be rich. But a guy who has an attractive personality, self-confidence, knows how to dress just right without being overly 'metro' will automatically be more appealing. We also take our content seriously, and that's why we bring in established experts to write in our [columns] instead of just Googling each topic. In short, Updaterus.com is a mens' portal that can improve a life with basic tools and knowledge.
3. Why did you decide to do this transformation?
Jonathan: Our first version, a unisex website, was a trial aimed at a bigger market [male and female]. Two months after we launched it, we encountered difficulties in how to serve that market because we had to satisfy both sides. Also, since my partners are all men, we felt that the mens' market is one that we are good at. Without thinking much, we pivoted to become a mens' portal. I used the lean startup method of "Build, Measure, Learn," so as soon as we felt the unisex thing was not working, we pivoted.
4. Can you share any website statistics? How had the adjustment gone so far?
Jonathan: The transformation is super awesome. Serving just one market is easier than trying to do two markets. Our pageviews have rocketed about ten-fold. And also our recent video has 52,000 Youtube hits in less than a week.
In the era where there are big media [sites] like Kompas, Detik, Viva, Kaskus, it is more likely for us to [succeed] in this niche market.
5. Male readers must be loving the 'Beauties by the Minute' feature. How many "beauties" do you have there? Can the users chat and connect with them?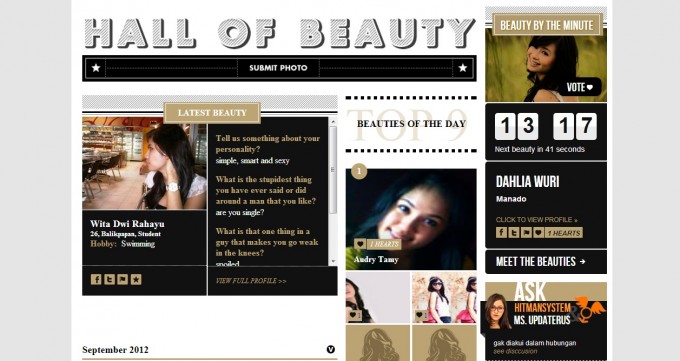 Jonathan: We have about 2,000 to 3,000 registrants but again we are very selective in choosing who can appear in the 'beauty by the minute', so we are down to a couple of hundred. My team and I have a conversation about [potential meetings between users and beauties], but there is lots of homework we have to do before that. So right now users can only ask questions to the beauties, and they will answer those questions through video.
6. Can you share your revenue model?
Jonathan: The easiest answer is ads. But ads can only [work if] we hit certain pageviews. Currently we focus on paid offline events selling seminars. Since we focus on basic character-building seminars, we had lots of good feedback from our attendees.
7. Does Updaterus have any investors?
Jonathan: Updaterus does not have any investors. Right now is self funded by my partners who are also experienced in the online and media industry. They choose to remain anonymous.
8. Can you name a few of your competitors? What makes you different from them?
Jonathan: Bachelora.com, Talkmen.com. What makes us different from them is we focus on self-improvement to make a better man. Instead of deploying lots of channels – for example music or movie reviews – our channels are very unique that focus on tips and knowledge. Our value proposition for the user is, after users read our content, they will learn something new that can cause them to be more appealing, smarter, and also charming.
9. Any upcoming plans you can share with us?
Jonathan: Yes. We will be lots of offline activities that focus on character seminars, offline campaigns, and also online campaign in November. But we can't say much more about these quite yet!