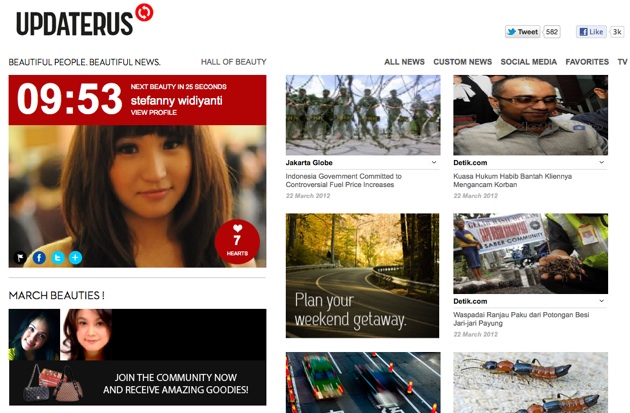 After a launch event at Planet Hollywood, Jakarta, the social news and beauty site Updaterus is officially open to the public after months of being in beta. Along with a few upgrades to its core features during the testing period, Updaterus now mixes beautiful peoples' profiles and news aggregation all into one.
Updaterus.com simply shows the profile pictures or avatars of its female users, along with their social networking links. Men can then check out those beautiful girls' profile pictures, and everyone can catch up on some news at the same time. Visitors to the site will be shown the profile picture of a girl along with an option to 'heart' (or 'like' on Facebook) the picture; women who have received the most hearts will win prizes in weekly, monthly, and yearly contests.
Now that the site is live, there's more of a focus on news events. Updaterus has a RSS news aggregation panel beside the pictures ticker. This will help people who want to read headlines without having to search for the news, with the option to click on the link, bringing more traffic to its partner news sites. Updaterus has also integrated social media so users can just log into their Facebook or Twitter accounts without having to go away from the site. Weekly winners/beauties will also be interviewed and shown on the Updaterus TV section.
Jonathan Marga Luhur, the CEO of Updaterus, said at the launch event:
We are more than happy to have finally launched Updaterus.com. All of the girls that will be shown aren't only pretty but also inspirational. We hope to be able to show their inspiring side on Updaterus TV, and at the same time be a part of the Indonesia digital scene that is useful to users by getting recent news, accessing social media, and a unique way to keep track of time while appreciating Indonesia's beautiful women.
Here's a brief teaser video for Updaterus, featuring famous model Stella Rissa, that focuses on the fashion and beauty side of the site: