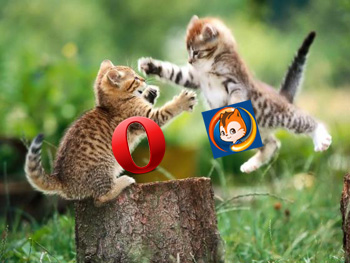 As we have noted before, India has huge potential for mobile growth. And many companies in the international mobile industry hope to get a piece of the action. UCWeb has done pretty well in India in recent years, claiming to have captured over 20 percent market share among mobile browsers.
Today, the Chinese company tells us that it has topped Opera in Google Play's free Android app download category in India (as tracked by App Annie). UC Browser currently ranks fifth, one place above Opera Mini. The CEO of UCWeb, Yu Yongfu, explains:
The latest Google Play rankings are very encouraging and reflects that we are headed in the right direction. Google Play is the largest Android app store, and being able to achieve the top ranking in the 'free app' category on Google Play has taken us a step forward in our goal of becoming India's largest mobile internet browser.
We couldn't just publish the news without giving Opera an opportunity to comment on it. And thankfully, they did — in an "Oh yeah?" sort of way. An Opera representative told me:
Opera's mobile browsers have more than 200 million users all over the world enjoying the benefit of compressed browsing to get the best speed and value for the money.

We don't comment on third-party statistics, but we'd like to take this opportunity to remind people that there is not just one, but two Opera browsers available for free download in Google Play. We have Opera Mini, famous for its data compression and speed, and Opera Mobile, customized for Android and other smartphones.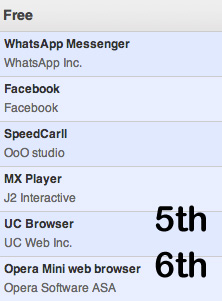 Opera Mini ranks sixth while Opera Mobile ranks 35th on App Annie's Google Play India list. In China, UCWeb's clearly dominates as the market leader. While Oupeng (Opera in Chinese), on the hand, is playing catch up. Opera is doing better elsewhere, particularly in the U.S., Europe, and Indonesia.
In recent months, UCWeb has also indicated its plans for a U.S IPO in 2013. I'm not sure who will win out in the end, but the mobile browser space is pretty crowded already. Beside UCWeb and Opera, other big players include Google Chrome mobile, QQ Browser, Dolphin, Baidu mobile browser, and of course Safari on iOS.