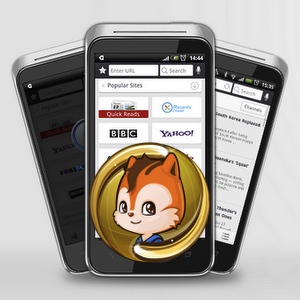 We were able get a hold of some interesting statistics from iResearch in the China mobile browser race for the month of July. iResearch tracked over 10,000 iOS and Android users who installed iResearch tracking software (with their permission) to make such data collection possible [1].
The chart shows the smartphone-oriented and Chinese-made UC Browser as the clear leader with 76.42 percent market share in terms of total time spent across all mobile browsers. Second place is QQ Browser, which is run by Tencent, at 17.32 percent. Baidu's Mobile Browser, which got a major rework a couple of weeks ago, isn't too popular, having just one percent market share. You can check out the graph below, which includes not just time spent, but also market share based on visits – which reflects just about the same results.
Besides gaining a foothold in the local Chinese market, UCWeb has also gained some traction overseas too, seeing 40 million active international users. A couple of months ago, there were rumors stating that Baidu was in talks to acquire UCWeb. Looking at the chart, Baidu could own the smartphone browser space by acquiring UCWeb. It sounds like a really feasible strategy to me, but I don't think it's going to happen with UCWeb prepping for a US IPO, and Baidu having invested in relaunching its own smartphone web browser.
---
The sample size might not be an entirely accurate representation of the entire population, but it should be enough to indicate a general trend.  ↩