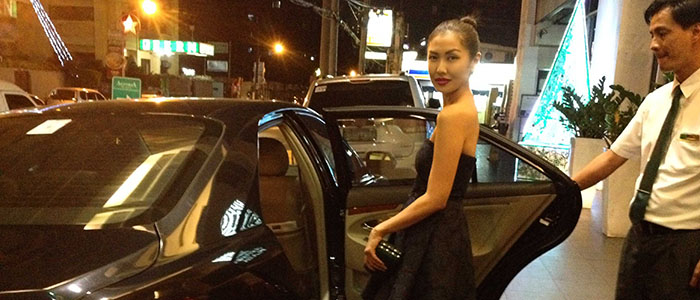 In December, car-booking service Uber quietly made its way into Manila with a soft launch in the capital of the Philippines. Now, after two months, Uber is launching officially in Manila.
In Manila, a trip in a Uber car starts with a base fare of Php 90 (US$2.03), with an additional Php 2.10 (US$0.05) per minute or Php 12.92 (US$0.30) per kilometer rate. In the Philippines, this costs more than riding a cab, but Michael Brown, Uber's regional general manager in Southeast Asia, says using Uber may be more synonymous to driving your own car.
To address the issue of expense in emerging countries such as the Philippines, Uber may look into providing lower fares in lower-end cars in some markets. Uber is currently running three models in Manila: the Hyundai Sonata, Ford Focus, and Toyota Altis.
Waiting time
Uber declined to disclose the number of vehicles it currently has in Manila. But Brown says that it's not the number of cars that matters. For them, what matters is the time it takes for a car to arrive at a pick-up point. In Manila, Brown says, it's 10 minutes average. The team's goal is to lower this waiting time. He points out that in San Francisco the average wait time is a claimed 90 seconds.
Like in other cities, Uber accepts credit cards for payment in the Philippines. However, one of the possible challenges in the country is the low rate of credit card ownership. Of the 27 percent with bank accounts in the country, only three percent own a credit card. To address this, Brown says Uber is already looking into other payment options for its users. It has already added an option for PayPal payment in selected countries.
Brown says its launch in Manila is due to the demand they saw in the country. It's also part of Uber's aim to be present in a large number of cities. He adds:
Filipinos know what trends are happening globally and embrace them. Even before Uber came here, people were already requesting cars in Manila.
Uber aims to make this service available in other metro cities in the country such as Cebu and Davao. But currently the startup wants to focus on Metro Manila and further improve its service in this area.
The car-booking service already has a local team in the country, but is still looking for a general manager that will oversee operations in the country.
(Editing by Steven Millward)