Updated: 23 January 2013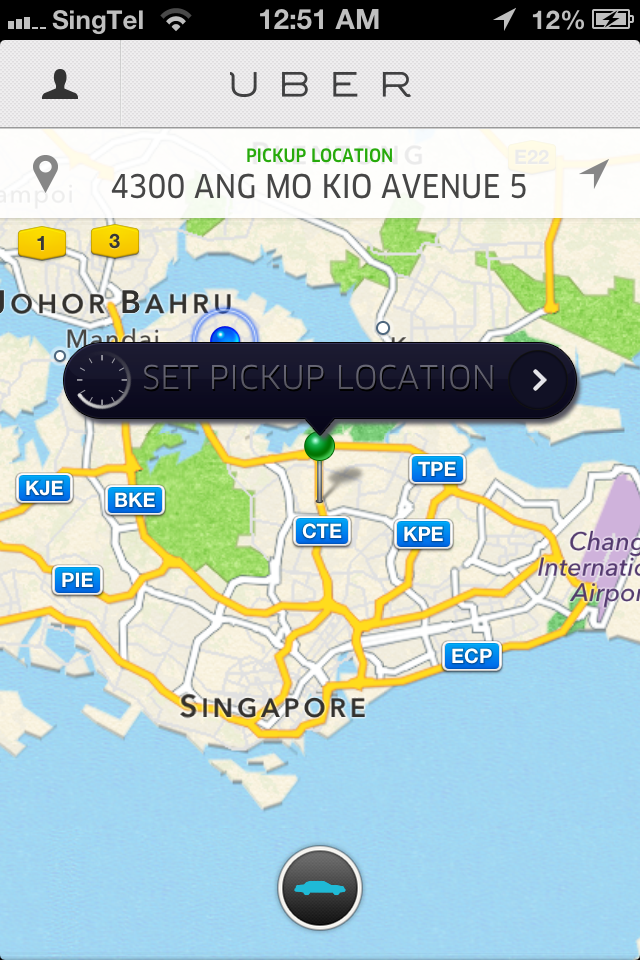 Uber, a San Francisco based on-demand limousine service, has soft launched in Singapore today. The mobile app is available for download on the iOS App Store.
The service enables users to engage a chauffeur at a fraction of the cost. Its secret lies in streamlining payment and booking services, as well as utilizing a limo driver's downtime. The end-to-end service — which includes an app for drivers — handles booking, payment, and even the giving of receipts.
To kickstart its "test mode", it has begun engaging Singapore's influencers to try out the app. They include Lesley Tay, owner of food blog ieatishootipost, as well as Theresa Goh, a star Paralympic swimmer.
An Uber blog post describes how the company's black Mercedes S vehicles, which come from fully-licensed local limo operators, would drive to the user's location with the push of a button, bringing them to wherever they wish to go.
Uber is billed as a premium service, meaning it isn't meant to be a replacement to your run-of-the-mill taxi. It charges a base fare of SGD7 plus SGD 2.26 per kilometer when driving above 18 km/h. That's much higher than a taxi company's flagdown rate of SGD3 with an additional SGD0.22 for every 400m.
Of course, taxi fares in Singapore are much more complicated than that, so in certain scenarios, the cost of using Uber might actually be comparable to booking a cab. Good luck trying to book a chauffeur today though — I'd expect demand to be incredibly hot with all the press they're getting.
I've certainly not booked a chauffeur myself, but the app's user experience is world class. Even on my iPhone 4, it feels snappy and responsive, and I understood the interface very quickly.
We first heard about Uber's move in October last year, when the company posted a job opening for a Singapore country manager on a Google spreadsheet for startup jobs.
The job description read:
"Having raised a series B round of USD $37 million, Uber is now ready to go international. Backed by Menlo Ventures (Fab, Siri, Hotmail), Jeff Bezos, & Goldman Sachs, Singapore is next on Uber's radar after the UK and Australia. Apply now to join the company disrupting taxi services everywhere."
News of Uber's impending Asian expansion was reported first by AllThingsD. CEO Travis Kalanick said that Uber was aiming to establish a presence in the region by the end of 2012.
The company has rapidly expanded to over 20 cities — mostly in US and Europe — since starting in 2010. It launched in Sydney in November last year,  and this month, it began testing its service in Berlin, Melbourne, and Stockholm.
Things have not always been smooth-sailing. After introducing taxi booking services last year, it was forced to wage battles with unfriendly government regulations and taxi regulators who fear that their industry is being disrupted.
Uber shut down its operations in New York City, months after it launched its services there against the authorities' wishes. The Taxi & Limousine Commission had even threatened to fine or revoke the licenses of drivers that use the service.
In Chicago, a group of taxi and livery companies filed a lawsuit against the startup. Meanwhile, in Washington DC, the taxi commission proposed a new set of rules that would make life hard for Uber.
These setbacks were only temporary however. The New York City government relented, passing a plan to make mobile hailing legal, while the DC Council approved a 'digital dispatch' framework that allows Uber to operate its digital dispatch service.
It's unclear if the company will face the same regulatory hurdles in Asia. To eventually operate a taxi service in Singapore, it might have to apply for a Taxi Operator License, although it is murky on what exactly makes one a taxi operator.
In the region's emerging markets though, legal restrictions probably won't be as much of an impediment due to their unregulated nature.
More updates as we have them.