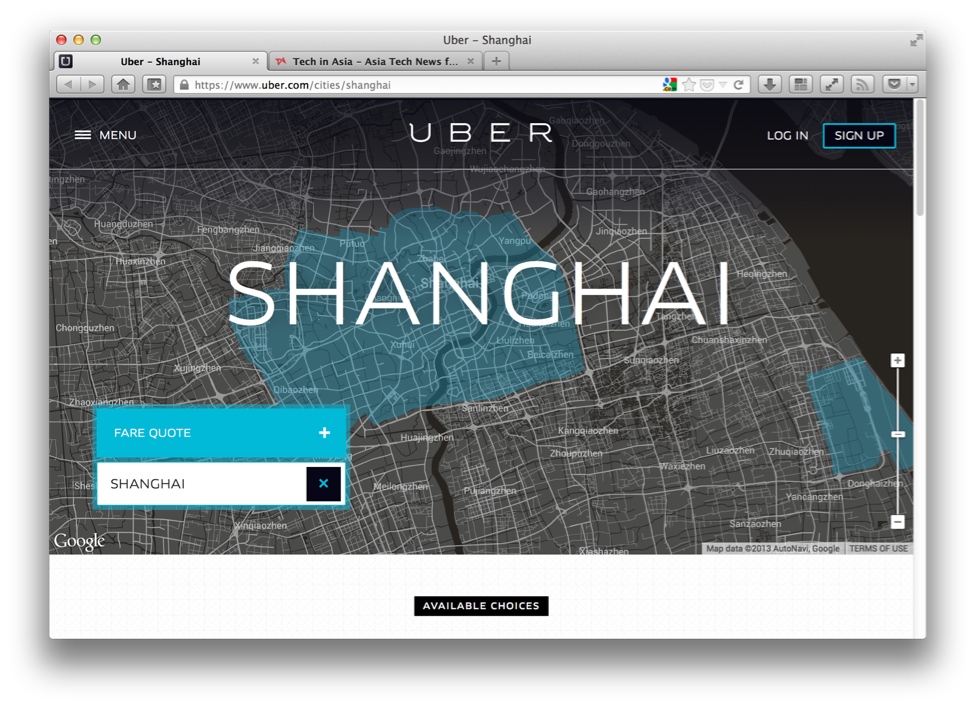 Weeks after launching in the cities of Taipei and Seoul, now the American online car booking service Uber is rolling into mainland China for the first time. As confirmed by an official Uber China Twitter account (via CityWeekend and TheNextWeb), the service has soft-launched in Shanghai.
Uber is temporarily charging US dollars in Shanghai until the team is ready to accept the local currency, the renminbi. Uber's apps are already updated for Chinese customers, but the US dollars mandate might deter some potential users. Perhaps this is a test run aimed at expat businesspeople.
Priced too high?
Uber's prices in mainland China look rather high, even by the standards of local private car companies. Uber's minimum fare is $9 in Shanghai, which is higher than it is in Taiwan ($5) or Seoul ($8), but it's a bit less than in Singapore ($9.35). However, Uber's prices are sky high compared to rival (offline) black car services in China. Uber charges $95 to get from Pudong airport to downtown Shanghai, which is about four times more than a local taxi, and more than double what many Chinese private car companies would charge. Admittedly, Uber's cars are nicer than average (BMW 7-series, Audi A8, Mercedes S-Class), but is all that worth paying more than double? Is the Chinese market – one used to haggling and getting good deals – ready for that kind of premium?
Aside from numerous local black car companies, Uber is also up against startup Yongche, which already operates in 38 cities across China. But Uber's advantage is that it's more flexible than Yongche, both in terms of immediate pick-ups and its lower minimum fare for top-end vehicles. For example, Yongche's rolling rate for a Mercedes Benz S-Class could work out cheaper than Uber's depending on the distance, but Yongche's minimum trip is a whopping $129 with the S-Class, even just to send you to Shanghai Pudong airport. But if you're willing to trade down to an Audi A6 on Yongche, the price tumbles to a much better $45. Perhaps Uber could force Yongche to be more flexible.
An Uber launch in the capital, Beijing, will likely follow.
(Source: CityWeekend)
(Editing by Paul Bischoff)