We recently took a look at Eric Fischer's Twitter visualization which showed that Asia is a very chatty region when it comes to microblogging, particularly Indonesia. Now French company Semiotics has examined some data as well in order to give us an alternative view of how the world Tweets [1].
The top 20 countries, in terms of the number of Twitter accounts, are listed below in the following chart. Not surprisingly, the US has by far the most user accounts with 107.7 million. Brazil is number two, with Japan just behind topping all Asian countries with almost 30 million. Indonesia is fifth with 19.5 million.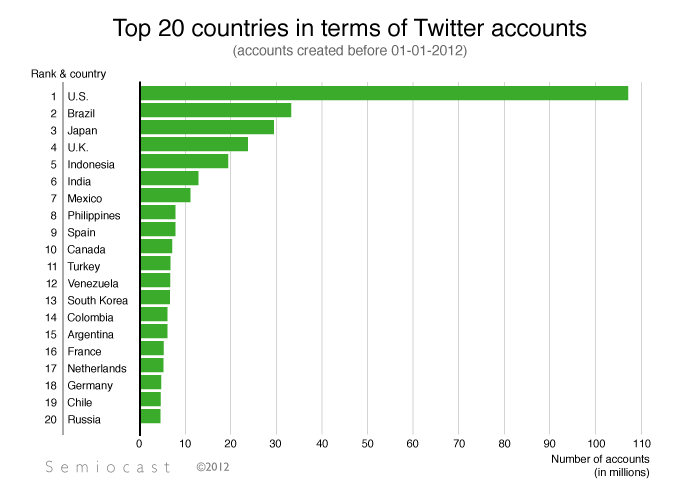 When we look at the most active Twitter nations, Japan does a little bit better, ranking second behind the Netherlands. Semiotics says that 30 percent of Japanese Twitter accounts have posted messages in their monitoring period [2].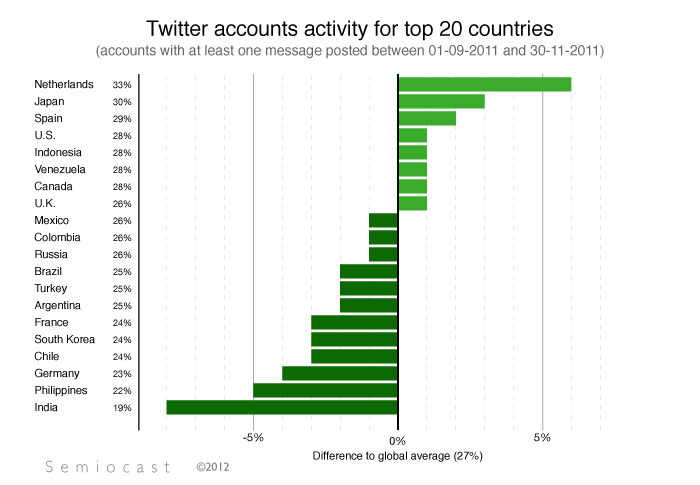 It's interesting to contrast these figures with the global numbers for Facebook, which we quite coincidentally looked at yesterday. The US also sits at the top of that ranking, with India having just overtaken Indonesia as the second largest Facebook population in the world.
---
Thanks to the the always excellent Akky Akimoto for the tip on this report.  ↩

Data was taken between September 1 and November 30, 2011.  ↩