Readers may recall Google's recent transparency report just a couple of weeks ago, which raised important questions on which nations censor and inquire about user information. Now Twitter, noting inspiration from Google's work, has released its own transparency report. Like Google's this holds some surprises as well.
The first alarming point is that Twitter has received more government requests for user information in the first half of 2012 than it has in all of 2011. Secondly, out of 849 user information requests, a whopping 679 (almost 80 percent) of them were from the US. The number two nation in user information requests was surprisingly Japan, with 98 user information requests (almost 12 percent). No other nation has more than 11 user information requests.
Like Google, Twitter didn't elaborate on the data very much, with no judgements passed on either the US or Japan. But the phrasing in the blog post announcement, as well as the date the company chose to release it, indicates to me that Twitter seems many of these requests as unfounded:
Wednesday marks Independence Day here in the United States. Beyond the fireworks and barbecue, July 4th serves as an important reminder of the need to hold governments accountable, especially on behalf of those who may not have a chance to do so themselves.
I've reached out to Twitter representatives for more information regarding Japan specifically, and I'll update you if I receive further information. The complete country data released by Twitter can be viewed below. Twitter says that in the future it will be publishing updates on this report twice a year.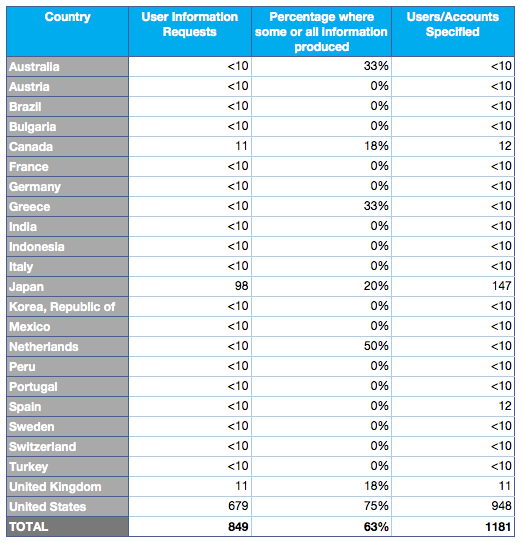 [h/t to Rich]