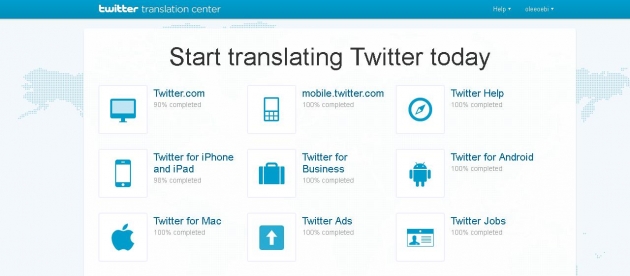 We have frequently written about Twitter's growing popularity in Indonesia. With the world's third largest userbase, Indonesia often makes the Trending Topics list. With all of that potential, Twitter used its translation center to make the Twitter experience accessible in the Indonesian language.
According to this post over on the Twitter Blog:
Indonesian and Dutch were the first language by community volunteers using Twitter Translation Center that opened earlier in the year. Volunteers translate twitter.com, support pages, desktop and mobile applications — everything except the Tweets. Then, a select group of the most active translators work closely with the team at Twitter to maintain localized versions of the service.
The Indonesian moderators at the Translation Center are @pdh90, @adhimatera, @prayudisatriyo, @rodin and @lowrobb. We got in touch with them and they informally shared a bit of their experience translating Twitter from English to Indonesian. Certainly no easy task.
---
1. What was your reaction when you were chosen to be one of the moderators of the Translation Centre?
---
@pdh90
: Excited, because the translation quality was not quite passable when I first started translating (as a usual translator), to be honest. By being a moderator I had the authority to moderate/translate the strings with precise accuracy. I have always wanted Twitter to have a high-quality Bahasa Indonesian interface for Indonesian users to use.
@prayudisatriyo: Happy that I can contribute to Twitter, our beloved information network!
@lowrobb: The Twitter translation project was actually started about a year ago, but then the project went MIA. Then it was restarted three to four months ago. This time, Twitter brought a very cool tool for translating, the Translation Center. Back then, i was invited to be a translator (invite only), then I applied to be a moderator and was  accepted. So when the project restarted, I wasn't very surprised to be chosen as moderator again. But still, I'm happy. It's a volunteer project, and it's for Twitter community. I love Twitter, it's that simple.
---
2. You have done your work in less than a month. What was the hardest part of this job? Were there any funny translations?
---
@rodin
: Well, we cannot do that in a month without submissions from translators. All we do is just approving them, and correct them if necessary. The hardest part for me is to maintain consistency, for example "Who to follow" has to be translated using the same words all over the place.
@pdh90: The fun part must have been the time we spent together every night; debating about the best translations to use, spotting some funny translations, and to be able to get to know some of Twitter localisation team's staff.
@adhimatera: The hardest part of this job is equalizing our perception about a phrase. Especially when approving the Twitter native terms, like "Mentions", "Tweet", "Retweet", "Timeline", and so on. I also had a problem to manage my time for this translation project because there were final exams on campus. But the fun part was finding lots of funny and strange translations in the Translation Center like "Daring = Online", "Luring = Offline", "Berkicau Ria = Tweeting (could you imagine?)", etc. It was [kind of] entertaining.
@lowrobb: Some of the translation strings were already done in the past, and this project had thousands of volunteers that were the core of this crowdsourced project in the first place. As the moderator team, we split the tasks  (@ronin brought this idea) and set the language guide for moderators. From there, all went smoothly. It's was easy, really. So, the credit also goes to the community, not only moderators. The fun part of being moderator/translator? To find weird Indonesia words and re-learn the vocabulary. . . For example, 'email' = 'surel'. Before I joined this project, I didn't know that 'email' was actually translated to Indonesian. That's so cool!
---
3. The five of you have become closer by working together.  What do you think of each other's work?
---
@lowrobb
: @ronin brought his experiences from the Mozilla project which was very helpful. Prayudi, Prasidya, and Ketut Prawira worked really hard and put so much effort into this moderator project. Everyone did a very good job, they are rockstars. As for myself, I think I'm the oldest of the group (and the laziest).
@pdh90: We have been working together, but also [in cooperation with] the other translators who have been volunteering so far. I say the Indonesian community have worked together to achieve what we have achieved today.
---
4. Now that it is available in Bahasa Indonesia, will you use Twitter in your own words?
---
@pdh90
: Definitely. I am (and will be) using it for two reasons. First I have to keep maintaining and spotting things for bugs, broken layouts, mis/untranslated words/terms, and/or any other problems as this version of Bahasa Indonesia is still far from perfect. Second, in order to socialise the language, I need to actually use it as my Twitter interface. It is impossible to encourage people to use Twitter in Bahasa Indonesian while I am myself not using it. That said, had I not been picked as one of the moderators, I would have definitely used the English version for various reasons.
@prayudisatriyo: Yes! And I'll promote it to other Indonesian users too, including you, Kevin!