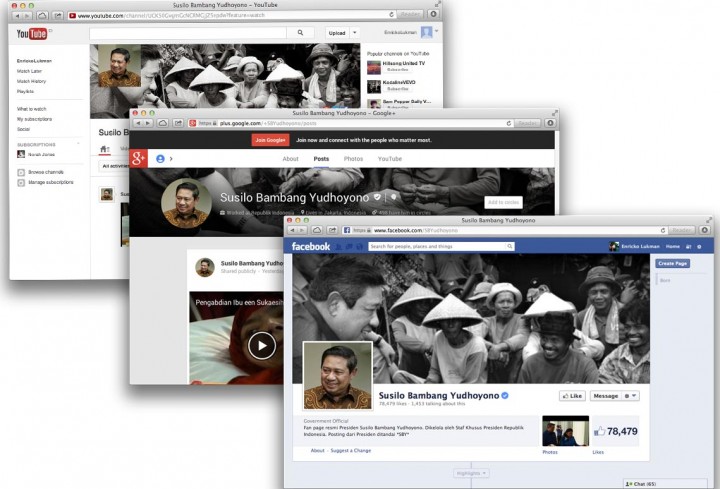 Indonesian President Susilo Bambang Yudhoyono is famous on Twitter with his account @SBYudhoyono having more than two million followers. And now, he's hit more social media sites by opening his own Facebook page, YouTube account, and Google Plus account.
Although signed up since May 22, he wrote his first Facebook status just a few hours ago, expressing how grateful he was to his followers for the warm reception so far on Twitter. He also stated that he really wants to interact more with the country's citizens, which is why he opened his new Facebook account (and other accounts as well). Managed by the president himself and his internal staff, the Facebook page posts have gained more than 80,000 likes so far. We observed that in 10 minutes' time, the account can generate around 3,000 page likes and that number will likely grow since Indonesia has 64 million monthly active Facebook users.
On the Google side of things, SBY conducted his first official Google Hangouts session by communicating directly to some officials about the disasters that happened recently in Aceh and Riau, and this was live-streamed via YouTube. The president's Google Plus account has more than 500 circles so far.
As for the president's YouTube account, it has only 70 subscribers so far, with only one video post. Oddly, the aforementioned live-streamed Hangout session was done not through SBY's own YouTube account but through an account belonging to non-government online TV channel Netmedia.
SBY isn't the only head of state who uses Google Hangouts. Notable heads of state in Asia Pacific who also utilizes that particular Google product are Australia's former prime minister Jullia Gillard and Malaysia's Prime Minister Tun Abdul Razak bin Hussein Al-Haj.
(Via Tekno Kompas)
(Editing by Charlie Custer and Enricko Lukman)