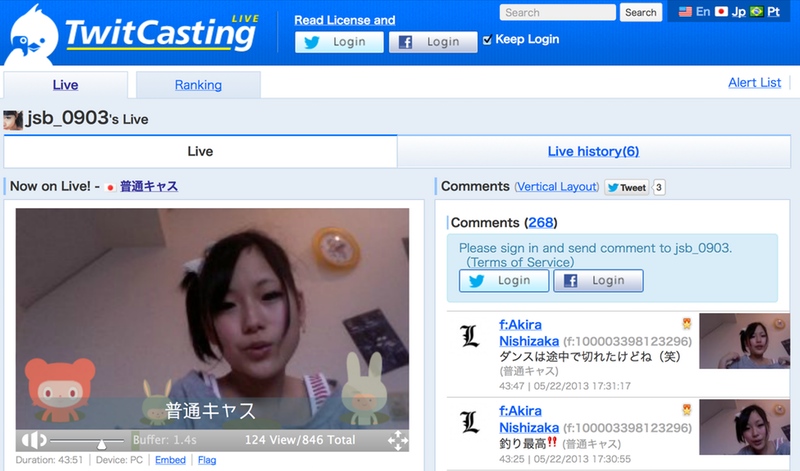 Twitter is fun, but it's not a very visual medium. Japan's TwitCasting is trying to change that with its video broadcasting platform that's tied very closely to Twitter. Today the startup has revealed that it now has US$640,000 in seed funding from East Ventures and various angel investors to help it grow. (Disclosure: East Ventures is also an investor in TechinAsia).
TwitCasting now has more than 2.4 million users, of whom 80 percent are in Japan, 10 percent in Brazil.
Yosuke Akamatsu, CEO of Moi Corporation, the startup company behind TwitCasting, says in the announcement:
TwitCasting is seeing 'hockey stick' growth since last summer,
and we were behind the speed of the growth in terms of human resources
and system infrastructure. This funding will enable us to rapidly deliver a good
communication platform and acquire core team members.
TwitCasting has both viewer and broadcaster apps for Android and iPhone. There's also a web app, where you can also choose to view streams that are radio only, music only, or full video. You can view live broadcasts where available, or dig through archived videos.
The service can be used for events and other useful stuff, though most of the videos on the site seem to be just people rambling on about stuff. A lot like YouTube.
With this investment, Taiga Matsuyama, a partner at East Ventures, will take a seat at on MOI's board of directors.
Disclosure: East Ventures is also an investor in TechinAsia. See our ethics page for more information.