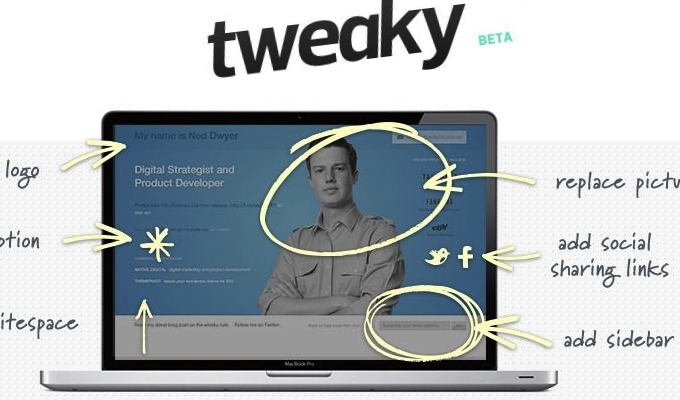 Tweaky.com, an online marketplace for people to connect with web designers, has recently raised a seed round of AUS$450,000 (US$468,000) from Australian investors Mark Harbottle (founder of 99designs), Leni Mayo (Learnable CEO), and the Sitepoint group. The startup based in Australia is founded by Ned Dwyer and Pete Murray; it won Startup Weekend Melbourne in November 2011.
Tweaky's vision is to be a marketplace for customizing websites. It is intended to make it easier for small businesses to make minor changes to their website. An example for a change would be updating a picture, removing some whitespace, or adding social media sharing links. These changes are known as "tweaks" – hence the name.
Regarding the investment, CEO & co-founder Ned told us:
The main motivation behind the investment was to allow us to launch and grow Tweaky.com. We decided to partner with Mark Harbottle (99designs.com and Flippa.com founder) and Leni Mayo (Learnable Founder) because they have deep industry expertise in the web development and design space, specifically around two-sided marketplaces. They're seasoned entrepreneurs and investors who have built multiple global leading businesses.
In theory, Tweaky operates similarly to marketplaces such as Fiverr, Freelancer, and Odesk. Tweaky has several key differences to other crowdsourcing websites to enable small businesses to use it for website customization.
Tweaky provides a concierge service which acts as a virtual project manager. The concierge service will break down the project into a series of tasks and manage the project by allocating it to pre-qualified developers. Each task will cost AUS$25 ($26), which is equivalent to 30 minutes of work. Tweaky takes 50 percent commission on each project for providing the concierge service, website credentials, and the assets to the developer.
The concierge service is currently performed manually. The challenge is whether this service can be scaled and automated so that this process can be more efficient. Dwyer, co-founder & CEO is confident that it can:
We have ways of automating it, which we're already starting to do, including asking common questions to the client in advance through the briefing form, etc. We're benefiting from the experience of Mark Harbottle in building 99designs in this regard where they have a significant customer support team which has scaled well with their business.
Clients provide their website credentials via a fully encrypted service to the developer along with the required assets. The client then has two options, as Tweaky can setup a staging server for their website or work directly on their live site. Tweaky provides a full backup of the website and a 100 percent money back guarantee.
If Tweaky can optimize these processes to ensure quality and ease of use, there could be a significant opportunity for a website customisation market for small business owners. The Sitepoint group of websites (99designs, Sitepoint, Learnable, Flippa) could be used to help drive traffic to the website to provide supply and demand. Potentially, the Sitepoint group could provide multiple services in the life cycle of a small business: have your new logo done on 99designs, use Tweaky to make changes to your website using pre-qualified developers from Sitepoint, and then sell it on Flippa.
This recent news continues Australia's development as a global leader for marketplaces. In addition to the Sitepoint group, there is also Freelancer, DesignCrowd, and Envato. It is increasingly becoming a country where you can find world-class talent to build marketplaces, and where new ones can emerge and be funded by local investors.