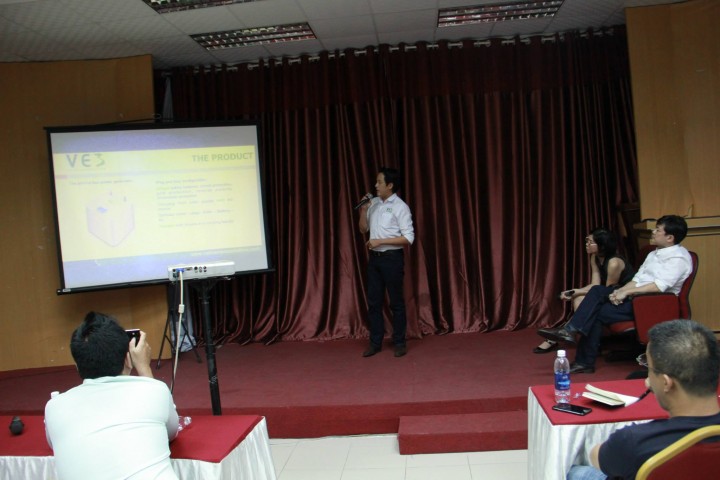 This past week, Tech In Asia was happy to have our inaugural Arena contest during our meetup in Ho Chi Minh city. It brought in over 270 local entrepreneurs and guests to learn about building and scaling a startup across Southeast Asia. Six startups then took the stage to battle for the favor of a panel of judges. Triip.me won this first ever local Arena battle and was crowned the "most promising startup" by our panelists and judges, Kuo-Yi Lim of Monk's Hill Ventures and Khor Chieh Suang of Digital Media Partners.
The six startups we picked to take part came from diverse industries, whittled down from the 32 submissions we got from startups across the Vietnamese city. It was an impressive response, especially since we only gave a week and a half for teams to apply. In other words, Vietnam is still innovating and entrepreneurial. The finalist line-up included startups covering tourism, business-to-business (B2B) SaaS, hardware, and mobile services.
On the site, travelers can find and book travel experiences crafted by local experts and tour agencies. In other words, it crowdsources tours. Currently, the service holds over 1,000 tours. In the startup's pitch, co-founder Ho Viet Hai said that the team will aggressively pursue opening up tours across 100 more cities in the next year. Hai says that although the return rate for customers is lower due to people only using the service once, this will be mitigated when Triip.me scales worldwide.
This startup's mission is to help small and medium-sized enterprises (SMEs) to accelerate their employee and sales performance. It applies simple cloud-based applications competing with traditional enterprise software from Oracle, Microsoft, and SAP. The main feature that Cloudjet presented during its pitch was its easy-to-use performance review service, which founder Le Viet Hong thinks has significant advantages over Excel, which was not designed for performance reviews. This startup is unique in that there are not very many B2B startups in Vietnam, and may represent a new wave of startups that are able to work with traditional businesses. Cloudjet has 18 paying customers already.
KoolTechs produces KoolThings, offering cloud-based services and an embedded hardware/firmware platform (such as a wireless gateway and sensors) to capture new opportunities in the emerging smart home – i.e. internet of things (IoT) market.
KoolThings supports things like security tagging, automation for home entertainment, home healthcare, fitness, and education. It ran a successful campaign on Kickstarter in February where it raised over $50,000 for its gadgets. The main issue that KoolTechs will be facing in the future is focus – since its products can do so much, it's not clear what would be the main killer application. Plus it has a growing number of rivals.
Started by a father who lost his wife, BabyMe is a product built for families that need help taking care of their children and pregnant mothers' health. BabyMe aims to have accurate information and tools for moms-to-be, moms, and healthcare providers during the first 1,000 days – starting from the time of a woman's pregnancy through her child's second birthday.
This period is one of most important times for the development of both brain and physical function in infants and toddlers. BabyMe will be a step closer to ensuring that zero children die from preventable deaths or suffer from malnutrition. The product is on desktop, mobile, and SMS, so it can potentially scale into Vietnam's countryside. Having said that, the team is also ambitious about taking BabyMe global.
Vietnam Eco Solutions (VES) produces a nicely-packed solar energy charger. It's basically a large white box, the size of a small refrigerator, that can hook up to any power source and store power. The main thing that VES would like to do is sell the box along with a solar panel, allowing people to not have to rely on power from the grid. Each VES SolarBox is sold at an affordable price so that the company can market to the countryside where the technology is most needed.