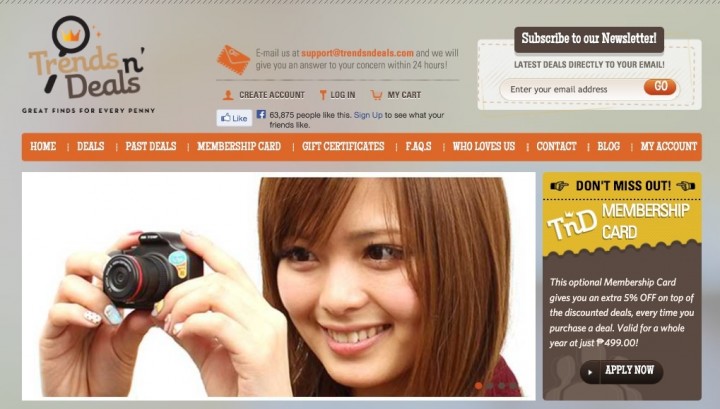 We've seen a number of daily deals site pop in the Philippine. Of these many sites, Metrodeal still leads the space. But not fearing the competition, Trends N' Deals is now making its presence known in the country.
Trends n' Deals, like other daily deals sites, provides promos on different consumer items that last for a limited duration. Next to every listed item is a timer that shows how much time is left before the deal expires. It also offers pay day sales, freebies and contests for consumers.
Trends N' Deals managing director Wilson Teng says that he and his team decided to establish the website to "provide true value for the consumers' money." He adds:
We noticed that there are a lot of so-called "deals" out there that claim they offer actual deals, but with information from our connections from suppliers, the consumer actually pays more than they should.
Customizing to consumer behavior
Launched in March 2013, Trends N' Deals currently features deals from its partner store, Nomad Nine. But part of its plan for the future is to allow other merchants to post in their site, which recalls Metrodeal's concept. Teng says the team has already received a number of merchant applications. He adds:
In the coming months, as we learn more about consumer behavior, we'll also be offering deals for restaurants, trips, and from other merchants. We prefer to introduce offerings phase by phase.
It's not about the competition
When asked about the competition, Teng compares the company as runners in a race who "do not look at his competitors."
Teng says the team believes in improving the site's business model constantly and adapting to changes. Part of their goal is to become the leading daily deals site next year.
True enough, daily deals sites are catching the consumers' attention in the Philippines.
Metrodeal alone had around 1.8 million unique visitors in the first half of the year. Given that Trends N' Deals is relatively young in the Philippine e-commerce space, it still has room to grow. Though some of these daily deals businesses will inevitably thrive or falter, they still collectively contribute to the growth and maturation of online shopping in the Philippines.
It's also interesting to note that the many e-commerce sites in the Philippines attest to how Filipino consumers are now relying on technology to shop, and trusting this new means of making purchases.
(Editing by Josh Horwitz)