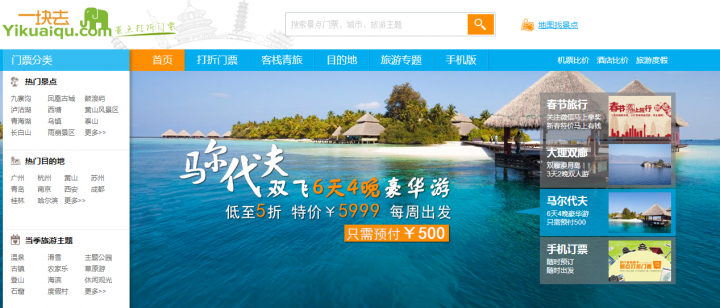 Chinese travel services website Yikuaiqu today announced a series A funding round worth "millions of dollars" led by Shenzhen High-tech Investment Group, according to 36kr.
'Tis the season for travel startups to flex their muscles as billions of passenger trips are made around the country for Chinese New Year. Yikuaiqu offers information about tourist attractions, discounts on tickets, and a hotel booking service. It also makes an app that runs on top of WeChat to help users find nearby tourist spots and discounts. The company says it's sold over 1.3 million tickets since it was founded in 2011.
Yikuaiqu's native app also offers discounted tickets in addition to virtual self-guided tours with hand-drawn maps and audio guides. Yikuaiqu's funding will mainly go into this vertical. It will be competing with apps like TouchChina, which already covers hundreds of attractions throughout China.
As of November 2013, fellow Chinese travel site 17u was beating Yikuaiqu in ticket sales by a slim margin, but 17u wasn't growing, according to travel industry analysts at CTCNN. It's also competing with Ctrip, Lvmama, and Tuniu, the latter of which might seek an IPO this year.
(Source: 36kr)
(Editing by Steven Millward)