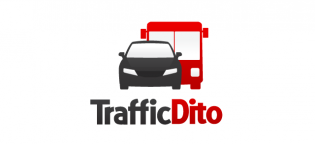 Those of you who drive would agree that traffic jams can really be a pain in the ass (metaphorically and literally), especially for manual-car drivers where you need to meddle with the clutch. Manila apparently has one of the world's worst traffic jams, but TrafficDito aims to improve your journey in Metro Manila.
TrafficDito crowdsources and displays all Metro Manila traffic-related tweets into one simple stream view, displaying on both its website TrafficDito.com and its iPhone app. Team member EJ Dela Vega elaborates:
Based on specific keywords that show the user's intended sentiment, TrafficDito classifies and marks each tweet as a light, moderate, or heavy traffic report. From the stream, people can search for a specific street, mall, or city and find relevant reports on road conditions in the area.

On the iPhone app, Map view allows users to view color-coded traffic report indicators overlaid on a map of Metro Manila. Geo-tagged tweets and reports from fellow app-users show up as green, blue, or red dots on the map, providing a more visual representation of traffic along city roads. Seeing mostly green or blue means it shouldn't be much trouble. But when you see nothing but red on the map, it's time to start looking for a detour!
The iPhone app has a pretty straightforward interface, where there's a report button on the top right hand corner that allows you to report on traffic conditions. It brings you to a new page that automatically detects your location and share the traffic condition levels: Light, Medium, and Heavy. You can start bitching and sharing all this info to TrafficDito as well as Twitter. Unfortunately, it doesn't work in Singapore where I'm currently based, so I can't see the real-time results. Hence, apart from crowdsourcing tweets, users can also send traffic information via the app.
TrafficDito.com and TrafficDito iPhone app was launched last October. The idea was conceived months before that on a Friday night when the team was stuck in the office, reading annoyed tweets about the terrible traffic condition that was happening outside. According to EJ,
People in Metro Manila tend to tweet about traffic a lot more than people think. It's because of this that the idea of social traffic monitoring came to be. By compiling all these crowdsourced reports and tweets in one place, we think that we're able to give people something unique and helpful: traffic updates from people actually stuck in it!
Being based in Quezon City right in the heart of Metro Manila where they encounter terrible traffic conditions everyday, the team is passionate about bringing value to users on the Manila's traffic situation.
At present, TrafficDito (both its website and iPhone app) has around 15,000 users and are looking to grow its user base. Just in case you start wondering, TrafficDito is a community project that the team does not intend to make money from and currently has no plans to in the future. They are also appealing to users to help them out by actively reporting and participating, so that the information will be even more accurate and serves a greater purpose.
But of course, safety comes first. Somehow, I kinda find such apps a little distracting and I'd rather not be the one looking at it while driving (thinking of the hefty fines if we're caught using the phone while on Singapore roads). It would be great if it's someone else in the car reading out the traffic conditions for me, or me checking it before I drive off to my destination.
Apparently, traffic in Metro Manila is so bad that it was reported to have a Dancing Santa (video embedded below) last November to lift moods of drivers. I don't know if you guys find this distracting but well, I guess it does put a smile in the midst of the chaos. But really, I'd rather have TrafficDito tell me where to avoid and what to expect. Here's the funny video: