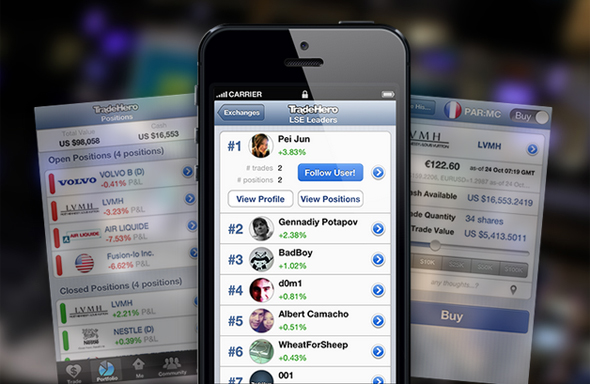 We're all familiar with fantasy football, where you pick a team, watch how their real-world counterparts perform, and see your team go up or down the rankings. TradeHero, a Singapore-based startup, is doing the same for stock traders.
This is a game that could help you make real money. The iPhone app, which just launched today, gets data from 14 stock exchanges, 45,000 global securities, and has 1,300 currency pairs. Users are given $100,000 in virtual currency, which they can then use to build to virtual portfolio.
From then on, it's a race to the top. A leaderboard shows who are the most successful traders in the game, and they will be ranked by exchange, sector, monthly, quarterly, and overall returns. These top scorers will be called 'Heroes', hence the name of the app.
Here's where things get interesting. Users can follow their favorite heroes for a small monthly fee, where they can receive stock tips via push notifications on their smartphones. The company will then split the monthly fees equally with the heroes.
It'll cost USD1.99 per month to follow a trader. After taking into account Apple's bite of 30% followed by a 50:50 split with the startup, each hero can earn about 70 cents per follower. That's USD700 if a virtual trader can get 1,000 followers a month. On a site like Stocktwit, traders can get more than 20,000 followers, although those are free-of-charge.
TradeHero's concept certainly sounds enticing. While the best stock traders would naturally keep their cards close to their chest, TradeHero's payment mechanics could encourage transparency and sharing among traders. The game elements of the app could make it attractive for novice investors looking for a fun way to learn the intricacies of trading.
Founded in 2012, TradeHero made its first public appearance at DEMO Asia in March. Since then, they've secured SGD600,000 (USD489k) in investments from TNF Ventures, a seed fund in Singapore under the NRF TIS scheme. The money is in addition to the grant they received from MDA and SITF to develop a proof-of-concept in 2011. They gave a presentation at Finovate Asia, a finance-tech conference held in Singapore just this month.
TradeHero is started by CEO Dinesh Bhatia and CTO Dominic Morris. Dinesh has 16 years of tech startup experience, founding Iteru.net, BowTie, Wireless Intellect and iOS development house, Edenpod (behind the Schedaroo mobile app, amongst others). He also had stints at several VC firms, including Matrix Partners and Vickers Venture Capital. Meanwhile, Dominic has 14 years of experience in engineering and management roles at Microsoft, Citigroup, Deutsche Bank, Royal Bank of Scotland, and Standard Chartered Bank. The team has eight people, including the two founders and a four-person development team.
The company has three patents pending, which covers how they monetize, collect and interpret data, as well as visualize information in an interactive 3D environment through the user interface, a feature described by the company as "infographics on steriods".
It is certainly not the first company out there that wants to benefit retail investors with crowdsourced wisdom. Platforms like TradingView, Tradefields, StockTwits, and The Motley Fool are already popular with traders for peer sharing.
But what makes TradeHero unique is its hero-centric monetization model. It's certainly an innovative approach that uses the cash carrot to encourage user retention.
There is a caveat though: Some finetuning will be necessary to encourage desirable behavior among users. Novice investors will need to be educated on the right approaches towards stock trading: after all, some users who want to make a quick buck might end up blinding following the moves of top players in the leaderboard, perhaps even gaining followers themselves that way.
On this, Gary Gan, business development director of TradeHero, tells me that such duplicators will always be behind the people they copy on the leaderboard, since the top-notch trader already has a successful trade history and positive balance sheet.
"We will still be looking into this though; we have a former VP from Citibank on the team who has extensive experience in trading, he is specifically working on making sure cheating on the system is eliminated," he says, referring to Dominic.
Another improvement the app will need is a robust ranking system that looks beyond just revenue. After all, a long-term investor may not earn as much money as a day trader in the short run, so quarterly and monthly rankings may not accurately reflect the diversity of investment profiles.
Gary assures me that a more refined ranking system is on the way. The new system will let users identify top traders based on their own preferences and adjust variables such as risk appetites, returns over time, industry specializations, and trading patterns.
We will soon know if the ideas have legs among the trader community. But with the amount of publicity they're already getting, and will receive in the coming days, I won't be surprised if a high number of users rush to download the app.