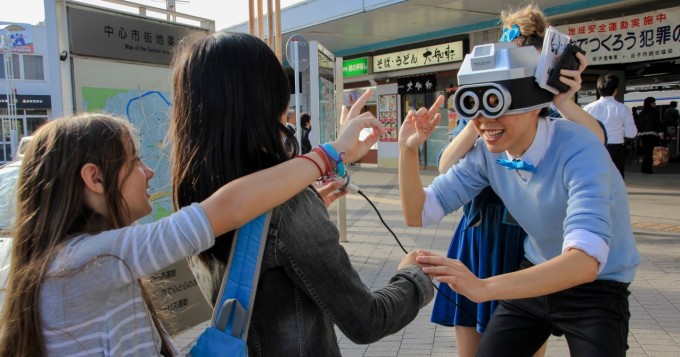 Tokyo-based new media artist Eric Siu has created a really wonderful idea that blends technology and performance art in way that is sure to turn heads — even in Japan where crazy technologies have become almost synonymous with the country.
His prototype of 'Touchy' is a human camera, or to explain more fully, a human who wears a helmet-like camera on his head, with the eye-holes functioning as shutters which are activated when others touch him for ten seconds. An LCD screen on the back of the head-piece lets people review the photo which has been taken.
Together with his partner Asia Skubisz who joined him last year, Eric plans more live performances in the future, such as ones they have already held in Akihabara and Harajuku. They are also considering using Touchy as a sort of social healing device that might be used by social workers in certain situations. The pair have developed a story around the character of Touchy (Asia plays his friend 'Margaret Toucha'), in which he explores fun new places, and they hope to later build on that, possibly even developing a manga.
The whole concept is rooted in the notion that our current society is in many ways increasingly isolated because of technology. Yes, we're connected via our smartphones, but the extent to which we are getting lost in the digital world is something which worried Eric. Touchy is a result of rethinking our relationship with technology, and the joy that can come via offline communication.
I'm told that later on, Touchy could be further developed as a Kickstarter project, but nothing has been decided on when or how that might happen. Nobumichi Tosa of Maywa Denki fame has been a mentor on the project, and he has been involved with equally unique and fun devices like the Otamatone.
If you'd like to learn more about how Touchy works, check out the promo video below. It's a great idea, and I hope we can continue to see Touchy explore Japan more. Perhaps the folks at MOFA or the Japan Tourism Agency should enlist his help in promoting the country to tourists, since their own efforts have been less than stellar so far.