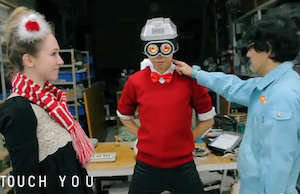 Readers may recall back in October when we featured new media artist Eric Siu and his amazing human camera prototype called 'Touchy'. The concept involves Eric wearing a helmet-like camera, but with eye-holes that function as shutters which activate when he's touched.
Eric, along with his partner Asia Skubisz and some other friends, have put together a fun Christmas video that I thought would be nice to share with you guys as the holidays are upon us.
It comes complete with all the things that make Christmas merry, including blond pole-dancers and homoerotic elves. Wait, did I say Christmas? I totally meant bachelor parties. In any case, you can check out the festive video in its entirety below. There's a special guest appearance from Touchy advisor and Japanese gadget Nobumichi Tosa (Maywa Denki), who chimes in on his Otamatone, a very unique instrument of his own creation.
Stay tuned for more fun adventures from the very creative Touchy and friends in the new year!