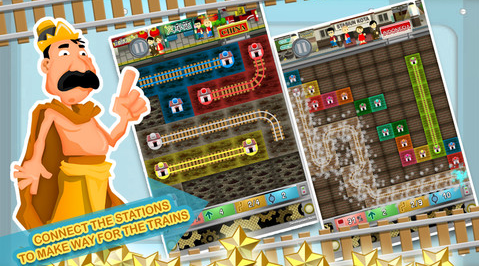 Touchten, a top mobile games developer from Indonesia, has announced that its latest free-to-download title, Train Legend, has reach the top 5 position overall in the United States iOS App Store. It has logged over 200,000 downloads within 24 hours.
Created by a lean 15-person team, Train Legend, which is also available on Android, is a puzzler that tasks players with connecting color-matched railroads in order to create a path for trains. Reviewers, which gave it an average of 3 out of 5 stars, have noted its similarities to Flow Free, an earlier game where players join pipes to let water through.
Train Legend's download rate matches the achievements of the company's previous games Infinite Sky and Sushi Chain. These apps had also cracked the top 10 on the US App Store. To date, Infinite Sky has been downloaded over 2 million times worldwide, and sees between 60k to 70k daily active users.
Despite achieving some success overseas, Touchten still finds monetization in Indonesia difficult.
"The country's smartphone user base is young and based on a still-growing middle class. Paypal users and credit card owners are rare. Revenue for showing ads are low, and direct carrier billing with telcos involve them taking the lion's share of revenues," said Rokimas Soeharyo, COO of Touchten.
To help counter this problem, the company has announced a partnership with Singapore-based startup Gimmie, which is a platform that rewards loyal gamers with digital or physical incentives and offers a revenue sharing program for game publishers. Expect to see Gimmie integrated into Touchten's existing and future games.
The partnership should not surprise anyone, considering that both startups are funded by Ideosource, an Indonesian VC firm.