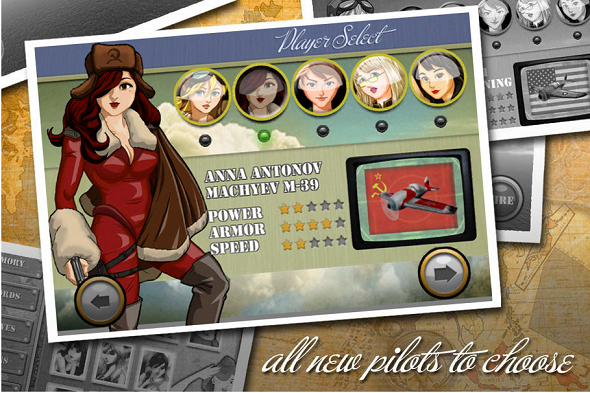 Touchten, one of Indonesia's top mobile game developers, has been very busy in China lately. In January, it launched Sky Beauty — a localized spin-off of  its popular Infinate Sky game — and apparently has been doing rather well.
The company announced today that within one week, Sky Beauty, a first-person aircraft shooter, has achieved 100,000 downloads and about 10,000 daily active users on China's iOS App Store. Sky Beauty was localized in partnership with Yodo1, an apps publishing platform that provides a set of tools to help apps succeed in the country.
China is an interesting market for Touchten. It claims to have a 'secure foothold' in the United States, with the country making up the largest segment of its user base. So it makes sense for the company to target China's rapidly growing Middle Class population, which accounts for the most number of iOS and Android activations in the world (even larger than the US).
Touchten appears to have struck the right formula. It's top title, Infinite Sky, has so far gotten 2 million downloads and at least 60 to 70k daily active users worldwide. The popularity of its apps has enabled the company to become cash flow positive.
Like many game developers, Touchten's story isn't always one of success — it has its share of flops out of the 15 games it produced.
But the breakthrough for the company came in 2009 when they released Sushi Chain, a sushi bar management game. Both paid and free versions have received over 2M downloads globally. They followed that up with Hachiko, a puzzle game that also garnered over 2M downloads.
The traction the company received has helped it raise USD1M in funding from Ideosource, an Indonesia-based startup inclubator, in 2011.
The Indonesian mobile games industry has thrived behind the efforts of companies like Touchten, which was founded by brothers Anton Soeharyo and Rokimas Putra Soeharyo as well as their cousin Dede Indrapurna.
Other Indonesian developers like Menara Games, the maker of Ninja Fishing, as well as Artlogic Games, the creator of Epic Wars, have also been leaving their marks on both web and mobile.
"I believe this growth happens not by accident. In general, the youth in Indonesia are avid video gamers. That's why I am thrilled to see our transition from consumers to producers of video games," Rokimas, co-founder of Touchten, told SGE.
To bring the industry even further, Roki believes the issue of app marketing and distribution will need to be addressed. Hundreds of apps are being submitted daily, so finding traction in a crowded and fragmented market will become more difficult over time.
Touchten has learnt that a multi-channel strategy is crucial to make its products known. The company has used marketing promotions, app stores, as well as partnerships with mobile phone manufacturers and mobile operators to ensure its games reach the widest audience possible.
They aim to eventually work with fellow developers through co-creation and publishing deals.
"Instead of fighting for market share, we can all work together to expand the pie as big as we can," said Roki.