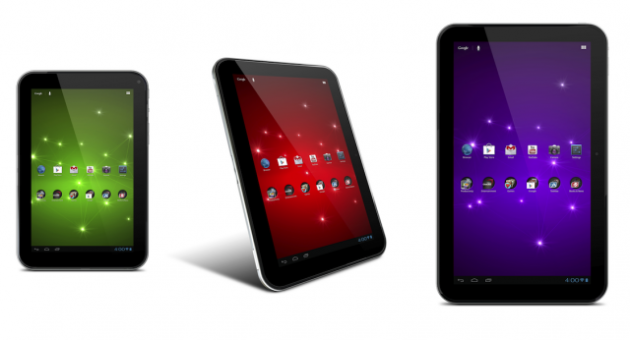 Yesterday we told you about Lenovo's new IdeaTab S2109 Android 4.0 tablet, which looks like it will be a good step forward for the Beijing-based manufacturer. Not to be outdone, Japan's Toshiba (TYO:6502) is planning to launch its own Android 4.0 tablet lineup soon in the US market, to be called the 'Excite' tablet family.
The tablets will come in three sizes (see picture [1]), 7.7-inch, 10-inch, and 13-inch; or in Goldlocks parlance, "too small," "too big," and "just right." All three models will sport 1 GB of RAM, a 5-megapixel rear camera, a 2 megapixel front-facing camera, and Tegra 3 quad-core processors.
While most tablets typically measure around that 9- or 10-inch space, the 13-inch model is certainly an unusual direction for Toshiba to take here. But a company representative, speaking with Ars Technica, noted that two thirds of their Toshiba Thrive tablets were sold to customers over the age of 55. So perhaps the 13-inch is something that could work [2].
The tablet is big, but remains 0.4 inches thin, and weighs in at a single kilogram. The screen will have a native resolution of 1600 x 900, and it claims up to 13 hours of battery life or 7 days on stand-by.
Pricing for the 7-, 10-, and 13-inch Excite tablets will start at $499, $449, and $649 respectively, with the 10-inch going on sale in May, with the others to follow in June.
---
I'm going to defer to Ars Technica's photo here, because there's no way I'm going to venture trying to present all three product shots in proportional sizes. Ars appears to have done a decent job with this, although I confess I've not broken out a ruler to check. To see all the product shots, check out Toshiba's Flickr sets. ↩

Perhaps it's the same type of rationale that resulted in Nintendo making a larger LL model of its Nintendo DSi a few years back.  ↩