Christel is a social media strategist at Havas Media Singapore. Besides having worked on social media campaigns for DBS Bank and KLM Airlines, she has written posts for Social Media Today and conducted workshops in Singapore and Kuala Lumpur. She observes marketing and social media trends on her blog and on Twitter.
---
Being a social media strategist here in Singapore, I recently found myself doing some research into which were the top Facebook Pages in in this country. After a little bit of digging, I've come up with the top 10 which are listed on the right [1]. And yes, there are more than a few surprises here.
What can we learn by looking at Singapore's best Facebook pages? How have they managed to capture so many fans? How have they managed to grow such active communities with high participatory rates? Here are some of my own thoughts on what most of these pages have in common.

1. Quality of Fans > Quantity of Fans
While the numbers here are all impressive, these findings demonstrate one fact: that these top brands value the quality of fans far greater than the absolute number of fans they have acquired.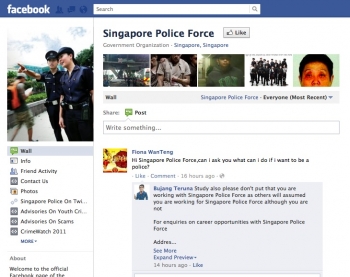 The Singapore Police Force Facebook Page is an excellent example of this. What is surprising about this being the top Facebook Page in Singapore is that there is little/no way they could be offering promotional content, discounts, or deals to bargain-hungry Singaporeans to encourage participation. Instead they have focused strongly on adding value to the community – even providing links to external organizations, such as the Health Sciences Authority, to answer questions from the general public.
Engagement rates on the Singapore Police Force Facebook Page are particularly high, with a very healthy amount of comments, likes, and shares. In fact, members of the community on the Singapore Police Force Facebook Page have taken it upon themselves to even address queries by the general public, thus compounding the page's value. All in all, this illustrates a number of good qualities: brand advocacy, adding value to the community, and allowing fans to have a positive stake in the brand.
2. Fans prefer content which adds value. Don't be overly promotional!
Content which adds value is a practice which BlackBerry Singapore, the 2nd most popular Facebook Page in Singapore, advocates as well. For the past month in December 2011, it had only ONE active piece of promotional content about its smartphones. The rest of the content has been about quality content which BlackBerry Users in general will find useful. We're talking about applications (adding value to even the developer community!), quick tips, and even videos from BlackBerry users on how the device has impacted their lives. The result? Active and positive engagement, multiple shares, and content which is relevant and matters to the community at large.
3. The Type of Content Matters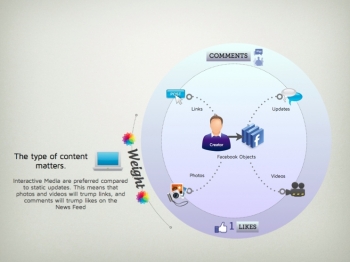 There's a saying that "if content is king, conversation is queen." How can brands in Singapore ensure a good balance of both content and conversation? The type of content does matter. All the top 10 Facebook pages in Singapore vary their content, and are more pre-disposed to posting photos and videos than just generic Status Updates. This is an important tip which brands in general – and I'm not talking just about brands in Singapore alone – need to remember.
This corroborates with Facebook's Edgerank formula helps determine the top content that will appear at the top of your Facebook News Feed when you log into Facebook.
The News Feed is the first page that users will see upon logging into Facebook. So it is important to optimize the objects (status updates, photos, videos, links) which users will find more relevant to their interests, and encourage greater engagement.
Generally speaking, Facebook prefers interactive content. This means that photos and videos will have a higher propensity to be at the top of the news feed of fans compared to links and status updates. In fact, the equation is as follows: Photos & Videos > Links > Status Updates.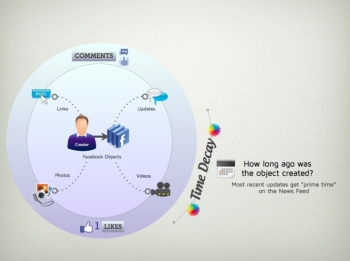 ALL of the top 10 Facebook pages in Singapore exhibit this varied content strategy, especially interactive media such as photos and videos. And generally, this is the content which attracts the most shares.
Timing and consistency matters as well. And you certainly can't be lazy if you want to win big in the Facebook game. Every top 10 Facebook page in Singapore posts different content every day – some even at multiple times in one day.
4. Wait a minute. What about fan postings?
You may notice that BlackBerry Singapore, Charles & Keith, and Singapore Airlines don't allow for fan postings. Why are they still so successful? When deciding whether or not to allow fan postings, I think it varies from brand to brand. Generally, such a practice isn't encouraged as it could alienate your community. More importantly, set your expectations with the community right from the start. Will it be for news updates? Hot Deals? Customer Service?
If you'd like to read more facts and figures about Facebook in Singapore check out this slideshow that I've put together below.
---
I have made a few updates to this list based on feedback in the comments. The original list can be found here.  ↩

Statistics are according to my own research and are accurate as of December 31 2011. If I have missed out on any fan page, or if the rankings need updating, feel free to let me know in the comments.  ↩