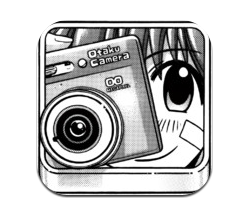 Readers may remember a few weeks back when we wrote about a unique Japanese camera application called Manga Camera. As you can probably tell from the app's name, its function is to turn your phone's photos into manga-style pictures. Manga Camera quickly passed the impressive milestone of three million downloads, and went on to break four million downloads in September.
But it appears that the unique niche of apps that turn your photos into manga is not a one-horse race anymore, as up-and-coming startup Tokyo Otaku Mode has thrown its hat in the ring as well. Early in the month the company released its Okatu Camera application for iOS, and it is now following up with an Android version as well.
At first I suspected that Tokyo Otaku Mode might have partnered with SuperSoftware, the makers of the original Manga Camera app, in some way. But I'm told by a Tokyo Otaku Mode representative that's not the case.
While Tokyo Otaku Mode didn't specify where it got its inspiration from, it didn't hesitate to point out the many ways in which its app varies from the original. According to a representative, Otaku Camera has a number of differentiators:
Live manga preview – Manga Camera only applies its filter after your photo is taken, whereas Otaku Camera shows a live preview so you can tell what your photo will look like.
Otaku Camera can apply its manga filter to photos on your camera roll which you have taken in the past.
TOM believes that it has higher quality frames (which you can apply to photos), as it has professional cartoonists working on some of them.
This app targets overseas users with simple Japanese and English captions on frames, making them easy to understand. Manga Camera, on the other hand, has more difficult Japanese text ('high-context' says TOM) on their frames and a lot of overseas users likely could not understand them.
I'm sure that Tokyo Otaku Mode will not win any awards for originality, but from the looks of its new app it might benefit from executing and marketing better than its domestic counterpart.
As we recently pointed out, Tokyo Otaku Mode has built up an enormous fan-count over on Facebook (how they pulled that off, we're still not sure…) and it is not unlikely that the company will push their app, as well as any future products they come up with, out through that channel.
Tokyo Otaku Mode has some high-profile backing, including advisor Joi Ito of MIT Media Lab, former Apple exec Andy Miller, and previously funding from 500 Startups.