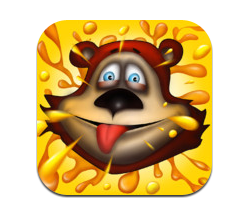 If you enjoy slashy, swipy smartphones games like Cut the Rope and Fruit Ninja, you might also like a fun new iOS title from Russia's Anton Roshchine Studio called To Bee or Not to Bear.
The game pits busy builder bees against hungry, destructive bears who fly on screen tethered to firehoses trying to steal honey from your hive. Your job is to help out the bees by cutting loose the bears with a swipe of your finger so they fall to the ground.
The game is good fun, although the difficulty level is higher than I expected for such a cutesy title. Occasionally I found that a single level can be frustratingly difficult, as it can be amazingly tricky to break out of the equilibrium of bees building and bears stealing. The artwork is pretty solid though, and overall its an enjoyable game.
AR Studio is apparently hoping to attract some of the Chinese market, going so far as to put its homepage's default navigation menu Chinese. The folks over at Chinese tech blog Technode astutely point out that since Cut the Rope (from Russian developer Zeptolab) found China to be its biggest market, that perhaps AR Studio has its eyes on a similar prize. The app itself has multiple language options, including English and Chinese.
Currently the iPhone version of the game is available on the app store for 99 cents and there's a HD version available for iPad for $2.99. You can check out a video demo of gameplay below, as well as screenshots.