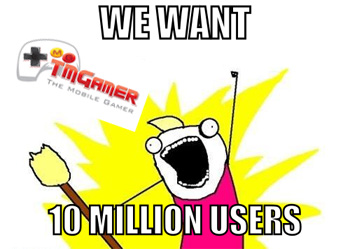 Big dreams, big targets: The Mobile Gamer (TMG), who boasted 3 million users when we heard from them earlier this year, is aiming to have 10 million users by the end of 2013. Co-founder Vincent Wang told me.
This lofty target comes after TMG raised US$1.46 million from SingTel which was announced about two months ago. SingTel could distribute TMG's game content, with telco billing integration, across its subsidiaries to reach a total of 424 million subscribers. SingTel is also useful when it comes to having mobile-related experts who are within reach for advice. So far, it sounds like a sweet partnership.
Most smartphones users wouldn't have much interest to play TMG's games, which are for now built for feature phone users. But very soon TMG will introduce HTML5 games for smartphone users, possibly as soon as next month. Vincent told me users can expect about five HTML5 games to start. Most of the game titles are developed and crafted by game studios in U.S. and Europe, with more local game content to follow.
Its HTML5 games will be targeted at gamers in Singapore and Australia, while feature phone games will be targeted at countries including India, Indonesia, and Thailand. So far there are a total of 16 games on Kotagames, produced by studios including Konami, Adways, Nijibox, Plasma, and TMG itself.
Disclosure: TMG is an occasional advertiser on this site. Read more on our ethics page.