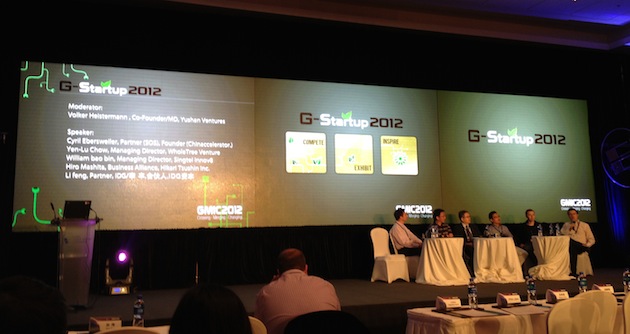 This is part of our coverage of the 2012 Global Mobile Internet Conference (GMIC) in Beijing. See our interviews and reports from the event here.
Raising money is tough. It's more an art than a science. So what should entrepreneurs keep in mind before approaching investors? At a discussion panel, "The Pros & Cons of VC Funding," participated in by six investors from across Asia, I quickly jotted down some of their pointers. The panel was moderated by Volker Heistermann, the co-founder/MD at Yushan Ventures. Panel members were as follows:
Li Feng, partner, IDG
Hiro Mashita, business alliance, Hikari Tsushin Inc.
Yen-Lu Chow, managing director, WholeTree Ventures
Cyril Ebersweiler, partner at SOS, founder at Chinaccelerator
William Bao Bean, managing director, SingTel Innov8
Their advice does not constitute a comprehensive list of course, but it should start entrepreneurs thinking before raising money from investors:
Check out the VC partners: There are several partners in a venture capital firm. Understand who are the partners you most like working with and ensure that he/she is the right person to work with.

Rapport/Chemistry: Finding the rapport and chemistry with the investors looks like the top tip from the investors in this discussion panel. This is key to making sure the relationship is a good one, with potential to go a llong way.

Check out their portfolio companies: To find out what kind of companies the investors have invested in already, check out their portfolio. So for example, a clean tech company need not waste time trying to raise fund from the a VC who is focused on the consumer web products.

Lifecycle of the firm: Every investment firm has a lifecycle, often of about 10 years or 15 years. As the investment firm is approaching the end of the lifecycle, it is likely to focus on exits – that is for its portfolio company to either go for an IPO or get acquired. So understanding the lifecyle of the fund is important as startups would like to have enough time to grow before hitting the exit button – if that happens at all.

Check out other options: Institutional investors aren't the only source of funds. Also look into angels, crowdfunding, and friends, family, and fools.

No 100 percent control: That said, not everyone should raise funds from investors. If you are a control freak – meaning, someone who wants to have 100 percent control and ownership – then it's better to stay small and grow organically. Founders need to take note that raising money from investors means giving part of the ownership to others in exchange for potentially greater growth.

Busy angels aren't cool: Interestingly, William Bao Bean from SingTel Innov8 shared that the most famous angels in China aren't the best investors to go with. (He didn't mention names, though.) They usually have too many other commitments, generally having invested in over 40 to 50 startups. They have little time to mentor. William also noted that these "famous angels" in China usually take a large equity at a very small sum of money, which usually leaves the founders very little equity to stay motivated by the time they exit after raising several rounds of funding. So, yes, take note of busy angels. Even if they are famous, it could boil down to nothing if they are too busy for you.