There are 18 million Line users in Thailand, making it the messaging app's top country outside of its home nation, Japan. This lastest number brings Line even closer to Facebook's user-base in Thailand, which is at 24 million right now.
With such a large fanbase, it's not a surprise to see brands jump on the Line bandwagon – it's a great vehicle for social marketing. EdgeAsia, a Bangkok-based digital agency, has come up with a cute infographic showing Line's milestones in Thailand and displaying examples of stickers/emoticons from the leading brands that use Line as one of their digital marketing channels.
Here are the key marketing insights:
There are 20 Thai brands who have active brand accounts on Line
There are nine brands with no official account but who give away special Line stickers
Sticker validity period ranges from 90 days to 180 days, with some brands opting for no expiration date
All leading three Thai telcos have given out Line stickers at least once (True was the first one)
TrueMove H is the most friended brand within Line. Plus, it has released the most free sticker packs (four)
A source tells us that Line charges companies THB 3 million ($100,000) per branded sticker collection. In our rough calculation, there are 42 exclusive collections so far. This means Line has made about $4.2 million in revenue selling branded stickers in Thailand alone.
Check out the full infographic below, courtesy of Nuttaputch:  (UPDATE: the infographic is updated to fix errors on the timeline).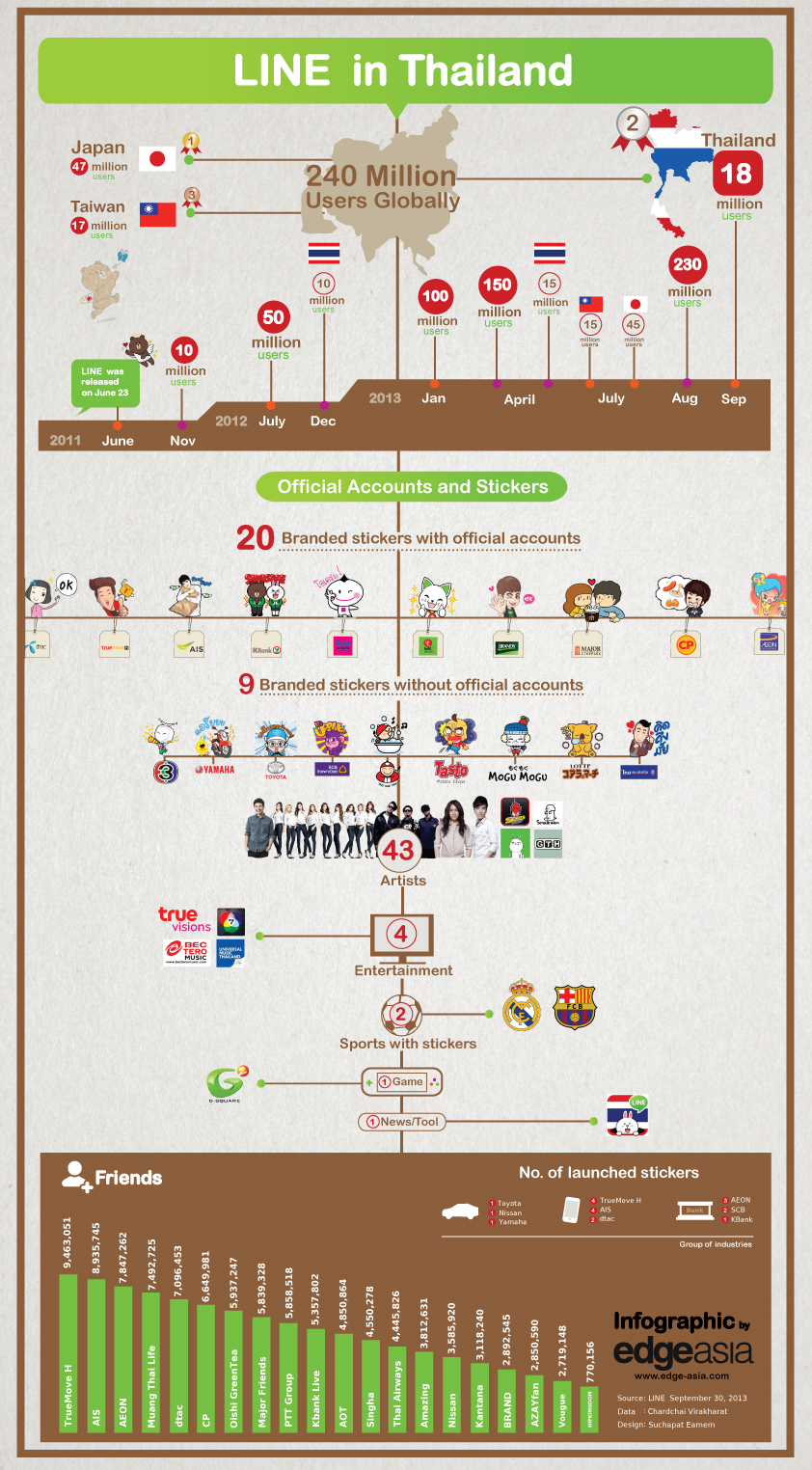 For more fun graphics like this one, check out previous entries in our infographic series.
---
(Editing by Steven Millward and Josh Horwitz)