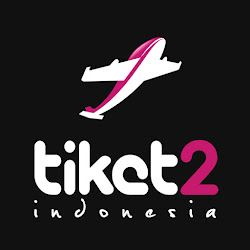 Indonesian travel ticket booking platform Tiket2.com has reached a milestone recently by surpassing one million monthly visits. We talked with Laurrien Maylinda, the marketing director of Tiket2, about the startup's latest milestone and about why its brand name and URL is so similar to rival Indonesian booking platform, Tiket.com.
Firstly, here are a few of Tiket2's recent stats:
The company's biggest traffic comes from Indonesia, while it also has overseas users from Malaysia, Singapore, Australia, Japan, the US, and Europe.
Tiket2 has achieved 500 percent growth in just over a year since August 2011, and Tiket2's monthly traffic was 200,000 hits then (it's more than 1 million now).
It has 134,000 Facebook page likes, 17,000 Twitter followers, and 80,000 newsletter subscribers.
It supports nine airlines for domestic and international flights, with 100,000 hotels listed across Asia Pacific, and 5,000 hotels in Indonesia [1].
An Indo-Polish Venture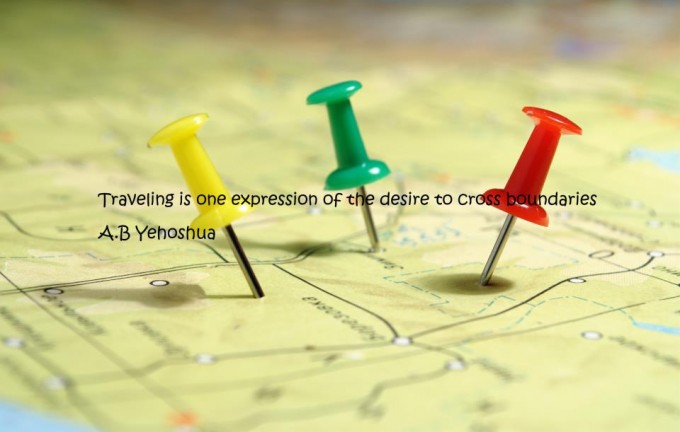 Interestingly, the Indonesian travel site founders are two Polish entrepreneurs, Michal Czajkowski and Juliusz Calyniuk. The inspiration for their building the travel service for Indonesia was a simple one – Michal had spent quite some time travelling and living in Indonesia, and during that time he wasn't able to find online services that could help him compare fees. He saw this as a great opportunity, and built Tiket2.
Tiket2 employs people from Jogjakarta and Poland. The company has 30 people working on its reservations and customer care team in Jogjakarta, while there are seven people working in Poland as IT support. Laurrien said that even with such distance, the two teams still have a very good connection to each other in terms of response time.
After briefly browsing the Traveloka website, which partners with both Tiket and Tiket2, I found that Tiket2's prices are not the site's biggest asset, as they are usually sometimes more expensive by IDR 20,000 ($2.10) to IDR 30,000 ($3.10) compared to Tiket. [UPDATED on November 19th: After further inspection of the Traveloka website, we've found that there were instances where Tiket2 had cheaper prices than Tiket by similar amounts]. Laurrien commented:
We are not focusing on the lowest possible service fees, we are dedicated to the best possible customer service. We believe that a customer, once he has found a really low fare, he will rather choose the service he can trust and rely on any time he needs help [and that's more useful] than save IDR 4,000 (42 cents).
The reservation and customer care team works 24/7 every day, and Tiket2 emphasizes the fact that it doesn't use an automation system for the company's booking process. They deem it prone to a user's human errors, such as if customers made a mistake in putting their information into the site for a flight booking. And the human support team will also assist customers if they want to do post-purchase changes such as amending the flight schedule or asking for a refund from the airline. Tiket2 claims that booking airline tickets from its website is really fast, and sometimes it is faster than booking directly from an airline's website.
In the near future, the team plans to launch a mobile website, develop a better reservation process, launch partners program, and open its API to the public [2]. Tiket2 doesn't have any external investment at the moment, but is open to talking to any interested investors, preferably ones with broad experience in emerging markets – and particularly in the travel field.
Is Tiket2 a Tiket CopyCat?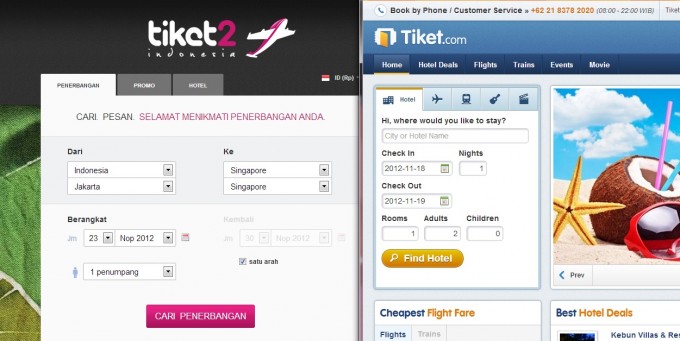 Many web users will be aware that there's a Tiket.com as well as Tiket2.com. How did that come about? Both Tiket2's Laurrien and a Tiket representative told me that they are not related to one another, despite the very similar domain names. I personally think that less clued-in web users might conclude that Tiket2 is a copycat of Tiket simply by judging the latter site's more exclusive domain name, and so Tiket2's brand seems to play second fiddle to Tiket's. I don't think this is good for Tiket2's PR and public image.
After doing a bit of fact-checking, it transpires that Tiket2 was launched nine months earlier than Tiket.com. Tiket2 was launched in February 2011, while Tiket was soft-launched in November 2011. So it is not fair to say that Tiket2 is a copycat website of Tiket. That said, we need to also acknowledge Tiket's smart move in securing the domain name – "tiket" means 'ticket" in Indonesian, as you will have guessed – long before their own site was launched.
Michal comments:
We don't have any problems with this similarity in name, and as you noted, we were first with the idea. But you are right that there may be similar suggestions [among the public] around, so I feel I should explain here a bit.

We liked the name Tiket2 as it brings two meanings. First: Tickets – as in "a lot of them" – as "tiket2" is a popular way of shortening "tiket-tiket". Secondly: [it also sounds like] "Ticket to" (somewhere). In fact, very shortly after we launched, we added "Indonesia" to our name.
So there you go. Tiket2 is another startup gunning to take a slice of the hot Indonesian travel industry. This makes me wonder if the Indonesian government realizes this opportunity and plans to help support the rising Indonesian travel startup scene in the near future.