Throw it out the window! It's good advice for anyone who has come across tainted food products, which seem to be increasingly common in China. But it's also the name of a website built by Wu Heng, a Fudan University grad student.
The site makes use of an intimidatingly large database put together by Mr. Wu that tracks media reports of food safety issues since 2004. Apparently, it has over 3,000 entries. On the site, users can browse for food safety problems by location, by the type of food involved, or by keywords like "fake" and "sulphur dioxide." For example, if I click on oatmeal, I'm taken to a page where I find one story from 2008 about oatmeal with fifteen times the standard amount of mold. Oatmeal, it seems, is pretty safe. I click on stories about milk instead, and find there are over fifty.
Users can even contribute to the disgusting food parade. There's no slick submission form yet, but the site does welcome email submissions.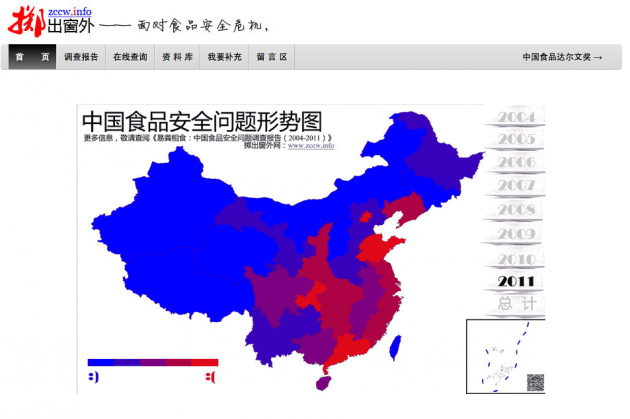 Throw it Out the Window's front page also has a clever map that shows food safety problems by location over time. It certainly appears things have gotten worse over the past few years, although it's possible that the media has also taken to reporting on these stories more frequently. Similarly, the fact that China's east coast has more media outlets is probably part of the reason its Western regions appear to be much safer in terms of food quality.
The site has actually been around for almost a year, but now includes complete data on 2011. Wu told the China Daily he started the site after reading news about a scandal involving beef, which he enjoys eating. He told the newspaper:
Once I was like a frog in warm water who did not care much about repeated food safety scandals, believing that the tainted food was an issue far away from my own life […] You should never be indifferent about the misery of others, for maybe you are the next one who will suffer.
Wu and his team are likely to have another busy year this year, as the food scandals certainly haven't slowed. But if our food is getting more and more poisonous, at least Throw it Out the Window is making it easier and easier to decide what not to eat.
[via China Daily]